The New York Times—your childhood friend who has gotten so weird and obsessive recently, ew, she's like in love with you or something—has written nine lengthy articles cataloguing the vast intricacies of Condé Nast's fall 2014 move from 4 Times Square to One World Trade Center.
Ahem:
August 3 2010: Condé Nast is probably moving to 1WTC.
May 17 2011: Condé Nast is definitely moving to 1WTC.
July 24 2014: When Condé Nast moves to 1WTC, what will happen?
October 23 2014: Condé Nast is about to move in to 1WTC.
November 2 2014: Condé Nast is currently moving in to 1WTC.
November 3 2014: Condé Nast has moved in to 1WTC.
March 10 2014: Bon Appétit, a Condé Nast title, enjoys its new space in 1WTC.
September 30 2015: Condé Nast's new cafeteria at 1WTC will never compare to its old cafeteria at 4 Times Square.
And the Times' latest article on this historic transition was also penned on September 30, bringing the number of articles in the New York Times about Condé Nast's new offices published on September 30, 2015 to a total of two.
The newest article begins by discussing, with appropriate mythical flair, "the abandoned shoe, at the top of the mechanical staircase, its spike heel lodged between steel treads, its telltale crimson sole visible to anyone who walked by."
G/O Media may get a commission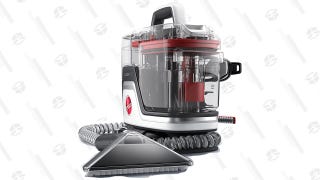 Save $10
Hoover CleanSlate Plus Carpet & Upholstery Cleaner
According to the Times:
The picture was irresistible Instagram and tabloid fodder because it suggested that the world's most glamorous media company was out of place in a wind-swept, workaday neighborhood of Wall Street traders, federal employees and bus-tour crowds. If a Christian Louboutin heel could not make it to the 25th floor, home of Vogue, didn't it follow that the glossy media empire and the fortresslike tower were a match made in real estate hell?
Actually, no! the article cries. No, never mind about that analogy! Despite the fact that "Like lovers in a romantic comedy who seem to despise each other at first, Condé Nast Publications and 1 World Trade Center got off to a rocky start"—see rats, weird popcorn smell, shitty cafeteria food, inconvenient distance from The Lambs Club—everyone is doing a-okay in their new digs.
In fact! "On a recent weekday the offerings included bowls of quinoa, pan-seared salmon, a raw food bar and baskets of peaches and pears." We should expect nothing less from a storied media company housed in a building that will one day likely be referred to as "historic."
(I should disclose here that I am a former Condé Nast employee whose last day at the company was October 30, 2014. My ID photo for the new building was incredible, and they didn't let me keep it. During my time there, I very much enjoyed reading articles about the impending move, because they made me feel important.)
---
Contact the author at ellie@jezebel.com.
Image via Getty.