Last night, scores of famous and beautiful people descended upon the Metropolitan Museum of Art in New York City in order to, um, galavant, I guess. It was Vogue's idea.
This year's theme was Charles James: Beyond Fashion, in keeping with this year's Met Costume Institute exhibition, a celebration of mid-century designer Charles James — whose masterful, sculptural ball gowns earned him the reputation of America's greatest couturier. As usual, many attendees seemed flummoxed by the theme (even though this year it was essentially "big-ass ball gown"), which yielded several formal crop tops. There was also a "terrifying" white tie dress code in place for the men — some of whom were like, "No thx" and some of whom went all-out.
Here are all of the looks:
The first to arrive were Anna Wintour (duh) and her daughter Bee Shaffer, in Chanel couture and Alexander McQueen, respectively. This is the second year Anna has not really followed the theme very well and just worn floor-length floral Chanel couture because she's Anna Wintour, damnit.
G/O Media may get a commission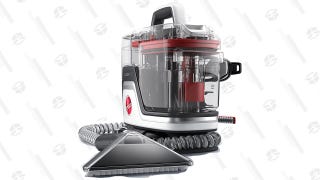 Save $10
Hoover CleanSlate Plus Carpet & Upholstery Cleaner
Now that we've gazed upon Anna, we need to talk about what Lupita Nyong'o wore: A SEQUIN-NET MADE OF GEMS AND FEATHERS. A BEDAZZLED DREAMCATCHER CONCEPT. It's by Prada, of course, and it's definitely one of the most daring looks of the night (Vanity Fair called it "divisive"). I would like it a lot, I think, if it weren't for those horrible feathers.
Sarah Jessica Parker looked extremely glamorous and v. Jamesian in Oscar de la Renta (which you can tell because the designer's signature is on the train).
Aaaaand of course Beyonce and Jay Z looked amazing. Bey wore a very sensual sheer and low-cut Givenchy gown with a face veil. Jay Z wore a nice tuxedo-thing.
In a very typical T-Swift style, Taylor Swift channeled Old Hollywood elegance in custom Oscar de la Renta with a giant, ornate bow and a massive train.
US. WE ARE KIMYE. Kanye wore a tailcoat, unlike a lot of the other slobs in attendance, and Kim played it pretty safe in Lanvin.
With bonus pix of Kanye looking much less grumpy:
(This photo is the best look at the Met Gala.)
YESSSSSSS to Rihanna's formal crop-top-gown concept, which is by Stella McCartney. She looks like a very powerful priestess, and it's also totally on-brand (her brand is "extremely fashionable; sort of paradoxically elegant; also, no bras").
Anne Hathaway looked stunning in a simple, structured, minimalistic Calvin Klein number.
Elle Model of the Year Bradley Cooper girlfriend Suki Waterhouse was radiant in a custom Burberry gown that dripped with tulle frills.
Hailee Steinfeld wore a sleek Prabal Gurung dress, featuring a more modern take on the sculptural skirt theme.
Here's Kate Upton channeling "if Coachella took place in an old-timey saloon," in Dolce and Gabbana.
Blake Lively and Ryan Reynolds, just Blake Lively'ing (i.e., donning a very flattering and form-fitting glittery dress, in this case Gucci) and Ryan Reynolds'ing (i.e., standing next to Blake Lively).
Cape Of the Night goes to Janelle Monae, who looked fucking incredible in Tadashi Shoji. Also, formal pants!!! I love everything about this.
Look how much fun Gisele Bundchen (in a custom Balenciaga silk and velvet gown) is having!
And now, a Man Interlude:
Here we have Bradley Cooper, John Legend and Kanye West, all looking dapper (although Kanye is sad Kanye'ing a bit).
More fancy men: Tom Ford, your boyfriend Benedict Cumberbatch, who, tragically, did not wear a top hat, Valentino Garavani.
Matt Bomer donned the necessary tailcoat. Miguel and Paul Rudd did not.
BEARDS? IN MY GALA?: Hugh Jackman, Ryan Reynolds, Bradley Cooper.
In white: Frank Ocean, Jay-Z, Joshua Jackson.
Andy Cohen looked very formal; Andrew Garfield wore silver because whatever; Ronan Farrow accessorized his suit with deceitful color contacts, probably.
Do you remember how the invitation said "white tie plus decorations"???? Colin Firth (with Livia Giuggioli) did not. Roberto Bolle did.
And so did Hamish Bowles, who came with a brooch thing and a top hat.
Black and white: Jessica Paré in a strapless Michael Kors with floral thread work, Zoe Saldana, also in Michael Kors with a simple halter top and structured skirt, Greta Gerwig in a custom asymmetrical dress by Oliver Theyskens.
And red all over: Allison Williams looking not-too-exciting but appropriately glamorous in Oscar de la Renta; Lake Bell wore a sweeping Tommy Hilfiger gown with an organza train, Arizona Muse opted for a more traditional silhouette by Ralph and Russo.
These women really went for it — Karolina Kurkova in a highly architectural hand-painted Marchesa gown from the spring 2011 collection, Liu Wen in a voluminous Zac Posen number, and Dita von Teese, also in Zac Posen. These are some of the best looks of the night, I think.
Shades of silver: Nicole Richie looked awesome in a sheer, clingy Donna Karan Atelier dress (I am all for showing inappropriate amounts of skin at the World's Stuffiest Party, if you haven't been able to tell already), Chrissy Teigen wore custom, glittery Ralph Lauren with a sensual neck ruffle. Up close, the fabric looks a bit like fashion chain mail, so I feel justified in saying that she looks like Sexy Hamlet (which is a big compliment, obviously).
Pretty in pink: Reese Witherspoon in structured Stella McCartney, Kate Bosworth, also in Stella McCartney, with diminutive under-boob cutouts, Emma Stone mastering the art of formal crop top in color-blocked Thakoon.
Wine colored womyn: Selena Gomez looked very mature in a simple and form-fitting Diane von Furstenberg gown, which she salvaged from being kinda unremarkable with huge, ornate earrings; Sarah Silverman wore a burgundy princess gown; Zoe Kravitz looked beauteous and rather edgy in a custom TopShop gown with a plunging neckline and thigh-high slit. My one complaint is that her hair style looks like what happens when I cut my bangs while drunk.
In yellow, we have Emmy Rossum floral-printed Carolina Herrera, Katie Holmes looking exactly like Belle from Beauty and the Beast in Marchesa, and Olivia Munn excellently flaunting some inner-boob in Diane Von Furstenberg.
Looking all opalescent: new Official Fashion Insider Kendall Jenner in a corset mermaid dress by TopShop, Amy Adams in Oscar de la Renta, Hayden Panettiere clad in cotton candy hues by Dennis Basso.
In pastels: German model Toni Garrn in a kinda wonky TopShop dress, Rashida Jones in a kinda cheesy Torn Burch gown, Claire Danes in a kinda prom-y Oscar de la Renta number.
Rachel McAdams went for sleek minimalism in Ralph Lauren; Idina Menzel looked very Frozen-esque in a frothy white gown by Donna Karan Atelier; Diane Kruger was all ethereal in embroidered Hugo Boss with pleated chiffon overlay.
Dakota Johnson wore a sweeping Jason Wu dress with a beaded camisole top, and then was like, "Should I brush my hair? Naaaaah."; Zooey Deschanel wore a kind of perplexing Tommy Hilfiger gown (seriously, what is that pale pink hanger-on coming from her back?) with feather sleeves; Kirsten Dunst wore something from the Rodarte Star Wars collection, which is chill.
Metallics! Lea Michele looks absolutely gorgeous in gold, as does Adriana Lima in a coppery leather corset top and Lily Aldridge in a sea of shimmery silver.
In color-blocked black and white, we have Anna Kendrick in J, Mendel, Margot Robbie in custom Prada with geometric embroidery, and Rosamund Pike looking v. casual in Louis Vuitton.
Naomi Campbell looks like a Greek goddess-cum-diva in Givenchy couture; Naomi Watts also wore Givenchy couture, but I wasn't as much of a fan of this one — the ombre doesn't work for me, and there's a bit too much going on here; Cobie Smulders smoldered in Reed Krakoff.
Gugu Mbatha-Raw (the star of Belle) looked effortlessly flawless and chic in a printed tea-length Lanvin dress; Kristen Stewart was edgy in Chanel couture; Amanda Peet opted for a bewitching Marc Jacobs dress.
Simple black gowns: Katie Couric in Angel Sanchez, Kristen Wiig in Balenciaga, Sofia Coppola.
Jessica Alba wore a rather uninspired Diane von Furstenberg dress; Leighton Meester looked lovely in a boho Emilio Pucci gown; Joan Smalls's Vera Wang dress wasn't all that exciting, but her purple lipstick was.
Trains, trains, trains: Felicity Jones in Theory by Oliver Theyskens, Karlie Kloss looking very glamorous in Oscar de la Renta, Kate Mara in an unfortunately-colored Valentino couture dress.
Slinky black dresses: Giuliana Rancic in Rhea Costa and terrifying makeup, Georgia May Jagger in custom Mugler, Gabrielle Union in Prada. Miuccia, please, enough with the feathers.
Chloe Moretz wore a formal bolo tie by Chanel couture, Shailene Woodley reached peak Shailene Woodley in a Forest Spirit costume by Rodarte, and Florence Welch Florence Welch'ed about in a massive floral cape by Valentino couture.
Today in "bad" (but said indulgently and kinda proudly, as in: "You're sooooo bad for wearing a short dress to the ball gown party!!!"): Rosie Huntington-Whiteley looked sorta punk, one year late, in Balmain; Elizabeth Olsen's dress, by Miu Miu, was a bit too figure skater-y for my tastes; Michelle Williams wore Louis Vuitton; like Rosamund Pike, who wore a dress from the same season — Nicolas Ghesquiere's first with the house — she also ended up looking too casual, I think.
More short dresses: Solange Knowles, who normally looks perfect on every red carpet, wore Not The Best Dress by 3.1 Philip Lim; Lena Dunham donned an embroidered peplum by Giambattista Valli couture; Marion Cotillard wore a navy fishnet Christian Dior couture dress.
Some more short, some sparkles: Adèle Exarchopoulos was stunning in Prada, Stacy Martin of Nymphomaniac was bright, sheer and sparkly in Miu Miu, and Imogen Poots also executed the "bra top plus shimmery skirt" look well — hers was Proenza Schouler.

FORMAL PAAAAAANTS!!!! Brie Larson looks fucking incredible in Prada with a unicorn horn bun (???); Cara Delevingne wore a sexy Stella McCartney outfit; Erykah Badu, in Givenchy, wore the best hat in the universe.
Outfits I Am Not Wild About: Rita Ora has waaaay too much going on; I feel conflicted about LaLa Anthony's decision to wear a purple dress AND purple lipstick; Elettra Weidemann's bedazzled sac seems strangely constructed.
Outfits I Am Not Wild About, Bland Edition: Dree Hemingway in a creamsicle-colored suit; Alexa Chung in some "meh" ruffles; Lily Allen's Chanel couture gown is oddly stiff.
Outfits I Am Not Wild About, Embellished Edition: Tabitha Simmons' look is either too campy or not campy enough, I can't tell; Sandra Lee's "sculptural" homage to James is strangely shapeless; Diana Agron's Miu Miu gown looks like an inexpensive witch costume.
The Gyllenhaals did not do well: Jake wore a blazer with no tie (which is a WHITE TIE NO-NO), and Maggie's technicolor nightmare cape is really not working for me.
To close, some lovely couples: David and Victoria Beckham, Johnny Depp and Amber Heard, Mary-Kate and Ashley Olsen, both in vintage Chanel couture.
Aaaand Chiwetel Ejiofor and Sari Mercer, Emma Stone and Andrew Garfield, Charlize Theron and Sean Penn.
NEIL PATRICK-HARRIS AND DAVID BURTKA LOOK SO GOOD.
Images via Getty.

Related: Celebrities Instagrammed the Crap Out of The Met Gala