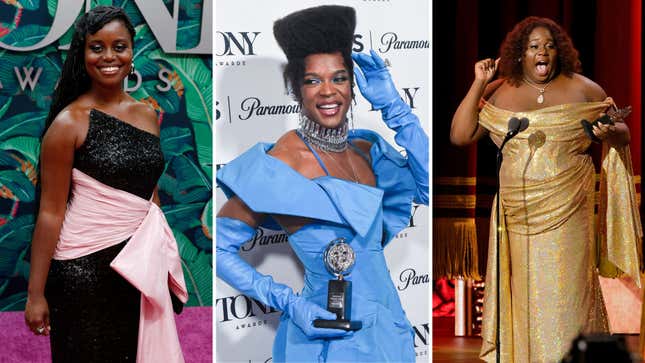 When in doubt...dance! It's a dangerous directive to give at the Theater Kid Olympics, but since last night's Tony Awards took place amid the writers' strike, it was a necessary one. The awards show, unscripted in solidarity with the picketers, prompted a handful of strikingly candid moments, some of which were really profound.
Off the bat, host Ariana DeBose explained the scriptless-ness of the evening and how it was a compromise made in order to support writers fighting for their rights as workers. The announcement was met with a round of applause, and while it wasn't the most radical moment of the evening,I'm always going to eat up a show of solidarity on a scale as large as this one.
Moving onto the history-making winners: Two were J. Harrison Ghee and Alex Newell, the two first openly nonbinary performers to win best lead actor and featured actor in a musical, respectively. "Thank you for seeing me, Broadway. I should not be up here as a queer nonbinary fat Black lil baby from Massachusetts," Newell said after winning for their performance in Shucked. "To anyone that thinks they can't do it, I'm going to look you dead in your face [and say] that you can do anything you put your mind to."
Ghee gave a similarly touching acceptance speech moments later for their win performing as Jerry/Daphne in Some Like It Hot. "For every trans, nonbinary gender noncomforing human, whoever was told you couldn't be seen—this is for you," they said.
These two major wins come at a time when gendered award categories have been causing much debate within the industry. Ghee spoke on the issue to the Times, saying, "I hope for the industry we can remove the gender of it because we are creators and we should free ourselves beyond so many labels and let the work speak for itself." Justin David Sullivan, another nonbinary performer and star of the musical & Juliet, removed themselves from consideration for the awards back in February because of the gendered categories. These two wins certainly don't resolve the issue at hand, but hopefully add more urgency to the need to properly and respectfully honor nonbinary performers.
Another wonderfully outspoken moment during the ceremony came from Denée Benton, who referred to Gov. Ron DeSantis (R-Fla.) as "the current Grand Wizard...I'm sorry, excuse me, governor of my home state of Florida" while presenting the Excellence in Theatre Education Award. (I see no issue with calling DeSantis racist. It's just facts!)
And finally, Michael Arden, winner of Best Director in a musical for his work on Parade, accepted his award with some choice words that were literally not heard by those watching on television. "Growing up, I was called the F-word more times than I could remember. And all I can say now is I'm a f****t with a Tony!" he triumphantly said, although it was bleeped out on the broadcast. But the uproarious applause when the audio cut back—and Ben Platt practically launching out of his seat in support—gave viewers enough context to deduce what had been said and know it had an impact.
While acceptance speeches aren't normally scripted, I do think that the entirely sans-script evening inspired a bit of gumption in those giving them. Let's hope that by next year we get to keep the groundbreaking wins, pointed speeches, and have a fair contract for the writers.