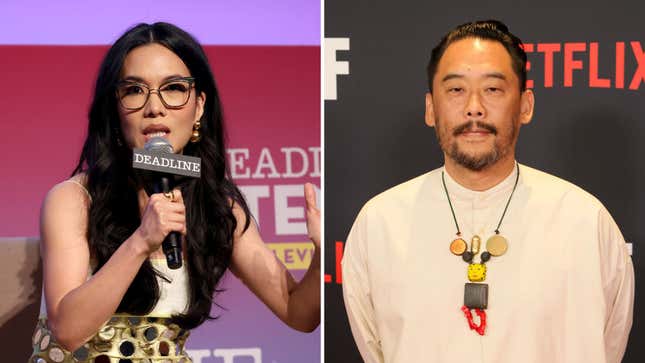 On Friday, Ali Wong finally addressed that resurfaced clip of her Beef co-star, David Choe, discussing past "rape-y behavior," following outcry from fans.
Taylor Lautner Doesn't Even Remember Saying 'Bella! Where the Hell Have You Been Loca?'
"The story David Choe fabricated nine years ago is undeniably hurtful and extremely disturbing," Wong, Beef creator Lee Sung Jin, and co-star Steven Yeun, said in an exclusive statement to Vanity Fair. "We do not condone this story in any way, and we understand why this has been so upsetting and triggering."
"We're aware David has apologized in the past for making up this horrific story, and we've seen him put in the work to get the mental health support he needed over the last decade to better himself and learn from his mistakes," the statement concluded.

The supposedly fabricated story in question came from a 2014 episode of a now-defunct podcast, DVDASA (Double Vag, Double Anal, Sensitive Artist) entitled "Erection Quest." In it, Choe described an instance in which he forced oral sex on a masseuse at a massage parlor. As Jezebel wrote earlier this week, the unsettling account went something like this:
"I'm getting turned on just telling this story," he tells his co-host and adult film actor Asa Akira. "I just take her hand and I put it on my dick. She just holds it there."

"She's in denial," Choe continues. "So I go, 'Can I help you?' And she's like, 'All right, all right.' So now I'm holding her hand around my dick, and I start jerking my dick off. I was like, 'Spit on it.' She's like, 'Uhh, no. I don't wanna do that.' I was like, 'No, spit on my dick.' She's like, 'No. This is crazy.' She's definitely not into it, but she's not stopping it either. She won't spit on it, so I was like, 'Kiss it.' She's like 'No, there's all the oil.'"

"I take the back of her head and I push it down on my dick, and she doesn't do it, and I go, 'Open your mouth,' and she does it, and then I start face-fucking her."

Akira, for her part, makes plain the only logical response: "You're basically telling us that you're a rapist right now, and the only way to get your dick hard is rape."

"Yeah," Choe agrees before clarifying that actually, he doesn't believe he's a rapist: "I just want to make it clear that I admit that that's rapey behavior, but I'm not a rapist."
For his part, Choe has made multiple (bizarre) apologies (first in 2014, and again, in 2017), repeatedly asserting the story was entirely fictional and an attempt to "entertain" himself: "Though I said those words, I did not commit those actions. It did not happen. I have ZERO history of sexual assault. I am deeply sorry for any hurt I've brought to anyone through my past words. Non-consensual sex is rape and it is never funny or appropriate to joke about."
Motherboard, Variety, and NBC News reported earlier this week that two Twitter users—Aura Bogado and Meecham Whitson Meriwhether—re-posted the clip only to have their tweets removed after Choe filed a report with Twitter, claiming he was the copyright holder of the video. In Choe's initial request for removal, he wrote that the clip—in which he details a nonconsensual situation—had been shared "without our consent."
Until Friday, Choe's Beef colleagues had been radio silent on the controversy, despite fans' justified pushback. Wong even managed to squeeze in a well-documented PDA fest with her new boyfriend, Bill Hader.
Glad to see they finally made the time to denounce whatever "entertainment" Choe purports that story was.