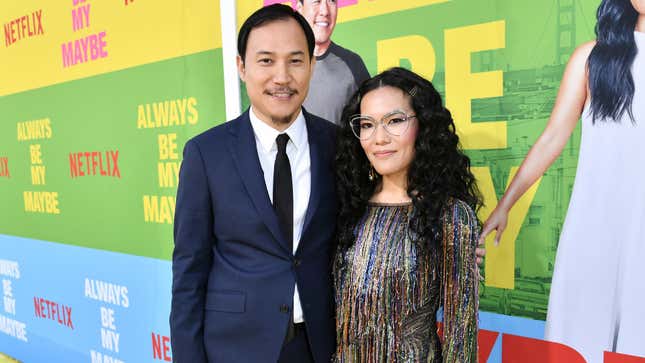 Last week, Ali Wong and her ex-husband, Justin Hakuta, were spotted hanging out together in San Francisco, spending time with their daughters and playing pickleball. The sweet domestic sight, along with the fact that Hakuta apparently still wears his wedding ring, gave fans hope that the two might be back together—but in a new interview, Wong said otherwise. "We're really, really close. We're best friends," Wong told The Hollywood Reporter. "We've been through so much together. It's a very unconventional divorce."
Hakuta was the subject of many of Wong's jokes in her first two Netflix comedy specials, Baby Cobra (2016) and Hard Knocked Wife (2018), both of which the comedian performed while pregnant with their children. As THR noted, viewers felt like "intimate witnesses to her [Wong's] personal life," and, well, no one really wants to see their parents break up. So it makes sense why learning that Wong and Hakuta are embarking on a new, mature, and apparently ~very platonic~ leg of their relationship is a source of deep anguish for fans.
When the two announced their divorce in April after eight years of marriage, things got pretty hairy for Wong. The breakup bomb dropped only two months after she released her third standup special, Don Wong, where she joked relentlessly about being deeply dissatisfied with monogamy: We're talking fantasizing about Avengers cumming on her face and wanting to "fuck other people now" levels of dissatisfied, y'all.
Some insinuated that Hakuta "left" Wong because of the Don Wong special and the many, many jokes she told about wanting to cheat on him. In response, others were quick to point out that Wong was being held to a gendered double standard, receiving far more backlash for her divorce compared to male comedians (read: John Mulaney) who navigated the end of their relationships in far messier, more problematic fashions.
And yet, given how anti-monogamy the comedy special was, many fans were generally unsurprised by the divorce. The most hopeful of the bunch speculated that it was just a ploy to get rid of the couple's "rubbish prenup," and that the two would still be together post-divorce. The stages of grief are long and hard indeed.
According to Wong, news of the split was "so widespread" that it even reached Chinese and Vietnamese newspapers, much to the chagrin of Wong's 82-year-old mother, who was devastated by the split. "She looked me in the eye and asked, 'Can you just wait until I die?,'" Wong told THR. "She was literally asking me to not live a life for myself."
In June, Wong will hit the road again—ex-husband-slash-tour-manager and two daughters in tow—for another comedy tour. "I'm still workshopping it, but the bones are there and it came to me very fast," Wong said. "This is the first hour I'm doing since I started where I'm single. I think we're going to call it the Single Lady tour."
May the jokes about wild, anonymous sex and the glories of new, desired singledom be aplenty.