Two African-American employees at an Alexander McQueen store in New York have filed suit against the company and its owner Kering for racial discrimination, reports Fashionista. The suit states the company "engaged in systematic racism against Kering's African-American employees," as well as blocking African-American employees from jobs on the sales floor, "relegating the few African Americans who are hired to menial positions behind the scenes."
The employees, Christopher Policard and Duane Davis, are not the first to file suit against McQueen for discrimination. In 2013, former security guard Othman Ibela brought a similar suit against a Manhattan McQueen shop; that same year, Moselle Blanco, a ten-year employee of McQueen's Meatpacking boutique who is Latina, filed charges against her boss for his "persistent barrage of offensive comments based on her race and national origin."
In this most recent suit, which Policard and Davis filed after complaining to a supervisor and receiving what they call a "perfunctory and superficial" investigation, managers are accused of:
being falsely accused of theft without evidence; being "invasively" screened for theft in front of employees and customers, unlike non-African American employees, who were subjected to screening either privately or in a less invasive manner; being "laughed at" for bringing up discrimination; being denied rights under employment practices and procedures; and performing heavy labor and "other menial, demeaning tasks that white employees are not asked to deal with."
Shockingly, one of the defendants named in this current suit—Catherine Flynn—was also named in Ibela's 2013 suit, in which he alleged that she made fun of his Gabon accent and asked him "why Muslims were always killing people."
Eric Baum, Policard and Davis's attorney, told WWD:
"Since 2013 the Alexander McQueen and Kering organizations have been on notice of racial discrimination claims but apparently have done very little if anything to fix the problem. The mistreatment of our clients shows that they have failed in this endeavor. This lawsuit is brought not only to remedy the harm caused to our clients but to send a message to the defendants and the entire retail industry that no level of discrimination will be tolerated by the African-American community."
G/O Media may get a commission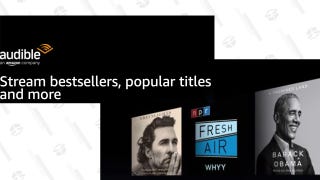 FREE
Audible Premium Plus 3-Month Free Trial
"We (Alexander McQueen and Kering) take these allegations very seriously and are investigating," a McQueen spokesperson told Fashionista. "However, we don't comment on current litigations."
On Saturday, Policard spoke to the New York Daily News. "I felt oppressed, rattled, and afraid for my future," he said. "I was surprised that such a prestigious brand would allow ignorance to infect and tarnish the brand image."
---
Contact the author at julianne@jezebel.com.
Image via Getty