A former security guard at a Alexander McQueen boutique in Manhattan has filed a lawsuit against the company after two store employees allegedly subjected him to racist harassment. Othman Ibela, a 22-year-old immigrant from Gabon, says store clerk Kimberly Mahnke, "repeatedly made jokes about me running nude in Africa with a spear in my hand." Mahnke also allegedly made racist jokes about the Obamas being from Africa (why are we not surprised?).
Shop manager Catherine Flynn repeatedly asked him "why Muslims were always killing people" and joked about his accent, saying he sounded like he was speaking Swahili, an East African language that is not used in Ibela's homeland, according to the complaint.
Ibela, who worked as a security contractor for the store for two years, says the staff also persistently ignored black shoppers, even turning their backs on them — unless those customers were celebrities. "When Beyoncé came in, everyone wanted to help," says Ibela. He says the harassment made him so despondent that at times he contemplated killing himself, or going postal inside the store.
[NYPost]
---
J. Crew posted this photo of Jenna Lyons and her ultimate style inspiration. [@JCrew]
---
G/O Media may get a commission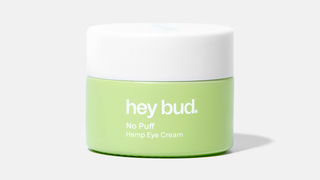 15% off
Hey Bud - No Puff Hemp Eye Cream
Obviously, Diane von Furstenberg has an enormous sculpture of a lipstick tube — and a kick-ass looking library — on her Connecticut estate. [Tales of Endearment]
---
• Although the garment industry's impacts in Bangladesh have recently come to mainstream attention because of a spate of industrial accidents that cost lives on an unprecedented scale — 1,129 workers died in the collapse of a factory building outside Dhaka this spring — the environmental impacts of low-cost clothing manufacturing is also dire. Textile manufacturing is water-intensive and highly polluting, with dyes and toxic chemicals often contaminating the local water table. The New York Times reports:
On the worst days, the toxic stench wafting through the Genda Government Primary School is almost suffocating. Teachers struggle to concentrate, as if they were choking on air. Students often become lightheaded and dizzy. A few boys fainted in late April. Another retched in class.

The odor rises off the polluted canal — behind the schoolhouse — where nearby factories dump their wastewater. Most of the factories are garment operations, textile mills and dyeing plants in the supply chain that exports clothing to Europe and the United States. Students can see what colors are in fashion by looking at the canal.
[NYTimes]
• "He could want a piece to be baggy and skinny at the same time… [but] oh well, you just find a way," says A.P.C. founder Jean Touitou of working with Kanye West on the rapper's collaboration with the brand. "When you deal with a guy who wants to redesign just about anything so it could fit [into the] kingdom of dopeness, it takes some time," says Touitou. "once the devil of endless possibility was taken care of, we knew exactly what to do." Yeezus Christ, sounds like someone was a handful. Touitou closes with this ominous warning: "Fashion killed rock and roll. Fashion killed contemporary art, and turned it vulgar. And if hip-hop artists are not careful it will also kill hip hop." [Style.com]
• Australian model Shanina Shaik talked to Women's Wear Daily about her special relationship with Jason Wu:
"We get along really well and he calls me his muse. Usually when fashion week comes around I do all the fittings for his clothes before they go on the models. I enjoy it because it's fun and I love to see all the beautiful clothes. I love his style — it's just really sophisticated. He can be really sexy with some of the items but still keep that sophisticated feel to it. And what I love about Jason is that he really works to the woman's body. He loves a woman's body. He doesn't love the up-and-down-stick-figure kind of look. He likes a little butt, a little boobs."
[WWD]
• André Leon Talley's talk show may not get off the ground, after all. The former Vogue editor told V magazine his television deal "is not even in its set stage; it's in its incubating stage. So I have nothing to report. If it doesn't happen, I'll be fine too." [V]
• Christian Louboutin sued Charles Jourdan for allegedly knocking off some of its shoes. The lawsuit was settled, and terms were not disclosed. [WWD]
• Joe's Jeans just bought competitor Hudson for $97.6 million, because $100 million would have been too round a number. [WWD]
• As expected, Kellwood has announced it will have an I.P.O. for its brand Vince. [WWD]
• The Cut takes a closer look at 3-D printing and its potential impact on fashion design. [The Cut]
• L'Oréal had a good quarter. Revenue rose year-on-year by 4.2%, to $7.58 billion. [WWD]