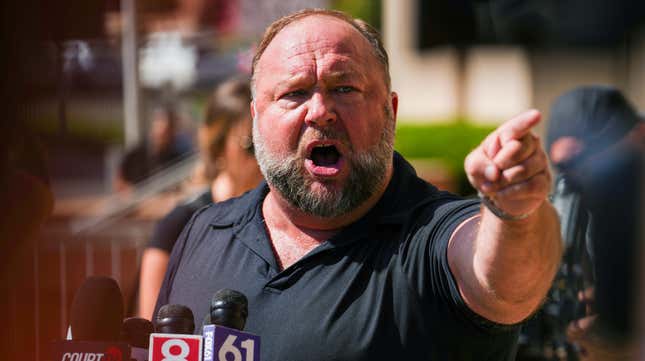 Artificial intelligence is often used for evil. But, as we saw when deepfake technology recreated Cardi B and Megan Thee Stallion's "WAP" with Drake and Kanye West, it is also sometimes used for good.
Blue States Aren't Necessarily Safe Havens for Abortion
Twitch prankster Chris James, who goes by Prank Stallone online, recently used AI to pretend to call Alex Jones pretending to be Tucker Carlson and suggest they film a segment where they suck on each other's nipples to "comment on gender roles." James released the phone call on Monday, and Jones is predictably displeased, telling his followers that he wants James to face criminal charges.

In the recorded call between the fake Carlson and Jones, Carlson's voice says, "I was thinking we could do a show together where we're topless and we suck each others' nipples and sort of play with them a bit. It would be a comment on gender roles, sort of a funny parody thing."
Jones replies, "That's a really great idea."
But then the fake Carlson repeats the same idea three times and complains that Fox News confiscated his bow tie. At this point, Jones seems to sense something is afoot, asking, "What's going on man? Well, it does sound like you, but the AI is so good now, you don't usually talk like that." The audio cuts out.
Last week, James hinted at the phone call in question to his Twitter followers: "Okay so let's say someone has Tucker Carlson's cell number, and also Alex Jones' cell phone number, and also an AI Tucker Carlson voice. They could IN THEORY call Alex Jones and pretend to be Tucker, and have a full conversation with him. Anyways I just did that."
Then on Thursday, Jones, a self-identified free speech advocate, went on a 30-minute rant about the call and threatened legal action. "Tucker Carlson's lawyers are involved, and what you did, we believe is a crime, so even though you think you are safe up in Canada, you are going to get arrested for what you did yesterday. So keep laughing, you little arrogant person," the far-right conspiracy theorist said in his Thursday episode.
He continued, "He thinks it's funny to call up Alex Jones and say, 'Suck my titties.' He stole Tucker Carlson's identity. He faked his number. He faked his voice. He called me and made sexual threats, basically." Jones, who has been accused of sexual harassment himself, concluded with an ominous warning: "We're gonna find out who you're working with, buddy."
In an interview with Rolling Stone, James said that after the prank call, Jones invited him on his show, and only when he declined did Jones threaten to file a criminal complaint against him. "I think it made him angry that I wasn't willing to come on his show," James told the magazine. "At that point, that's when he started in with, 'This guy needs to be arrested' and putting up my photo and my Twitter account and really coming after me." But James doesn't seem concerned: "At the end of the day, he's just a fucking showman who's trying to make this into a big thing."
James hosts Not Even a Show, a Twitch channel centered around pranks on conservative talk show hosts. He explained to Rolling Stone that he orchestrates stunts like his prank call on Jones as "a reaction to the online world becoming just so overwhelmingly bad," to "try to bring some humor in this situation where people can at least look at it and have a bit of a laugh."
I am happy to have a laugh at the expense of someone who spent years building a massive, multi-million dollar platform to terrorize the families of school shooting survivors for years. Speaking of which, I'm curious where Jones is getting the funds to file whatever lawsuit he's threatening James with, considering that he owes the Sandy Hook shooting survivors' families close to $1 billion for suggesting the mass murder of children was staged. I'm also uncertain where Carlson is going to get the money to challenge James, seeing as he's newly unemployed and currently working with one of the most aggressive (and I imagine expensive) lawyers in the entertainment industry following his termination from Fox.
I, personally, believe that if Jones were truly a free speech absolutist or whatever and not just a right-wing hack, he'd have to support James.