Prince Harry and Meghan Markle have just made their first official appearance together, at the Invictus Games in Toronto, in the stands at a wheelchair tennis match. Love is real, specifically my love of this story.
The relationship was of course confirmed months ago (on election day here in the U.S., as a matter of fact), and Markle recently appeared on the cover of Vanity Fair, fueling speculation about a possible engagement. But seeing, as they say, is believing, and—after being seated practically acres from each other at last night's festivities—the two were just photographed entering the venue, holding hands.
What wouldn't I give to be a fly on the wall of the publicity team responsible for Suits. Do they occasionally just look around at each other and start squealing in disbelief? What do you even do when your coworker randomly starts dating a royal? Who's scripting this, the Hallmark Channel?

G/O Media may get a commission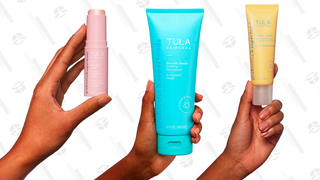 Does she get to keep the cool crisp blouses if she officially joins the Firm as a working royal?
Ah, well, American television audiences knew him when...