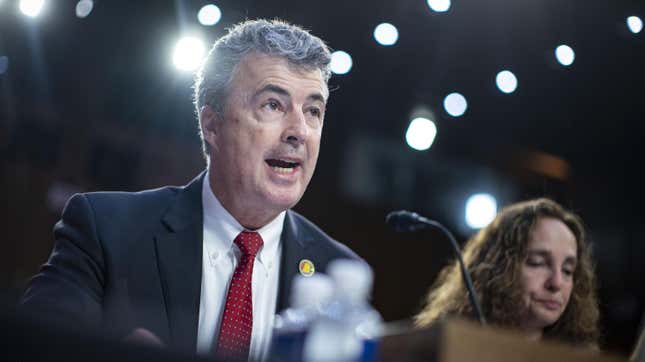 Alabama Attorney General Steve Marshall (R) told AL.com on Tuesday that women and pregnant people who use abortion pills in the state could be prosecuted. Marshall said he would pursue such cases not under Alabama's abortion ban, but under a "chemical endangerment" law that was never intended to apply to pregnant people.
Republicans Pull Out All the Stupid Stops While Debating Abortion
It marked the first time Marshall had targeted pregnant people, rather than abortion providers or helpers, the outlet noted. His statement is a big deal and, accordingly, the original story spread like wildfire; it's been shared more than 6,000 times.
But on Wednesday, the AG's office seemingly wanted to clarify those remarks. When the Washington Post sought an interview with Marshall, his deputy communications director Cameron Mixon declined to make him available and told the paper: "The Attorney General's beef is with illegal providers, not women."
The Post characterized this response as Marshall "appear[ing] to back away from endorsing the prosecution of abortion seekers"—but Marshall didn't say that. Rather, Mixon's statement is only clarifying in the sense that it shows Marshall wants to threaten women and pregnant people with prosecution so that they snitch on the doctors and activists who provide abortion pills to people in states with bans.
Anti-abortion groups swear up and down that they don't want to prosecute people who have abortions. Kristan Hawkins, president of Students for Life of America, told the Post that statements like the one Marshall issued "lead to confusion about what the pro-life movement's goals and objectives are...We're focusing on the cartel. We're focusing on the manufacturers and the distributors of these dangerous drugs."
But as Robin Marty, director of operations at West Alabama Women's Center in Tuscaloosa, pointed out on Twitter, all Marshall did was say the quiet part out loud: States need to weaponize the threat of criminalization if they want to prevent self-managed abortions with pills.
"The Attorney General is clearly trying to evoke the pre-Roe days when women were interrogated in hospitals and forced into giving up the names of their illegal providers with threat of arrest or exposure," Marty told Jezebel in a statement. "Without this weapon, there's no ability to arrest anyone over an illegal abortion and no real way to stop someone from just ordering pills, receiving them at home, and taking care of themselves. Marshall needs a threat to give this ban teeth, since providers like us have been following the law explicitly. There's nothing that frightens him more in this situation than women having autonomy and power."
Marty told the Post that Marshall's original comment is intended to scare people out of obtaining abortion pills. While WAWC no longer provides abortions because of the state's ban, the clinic remains open to provide other reproductive services, including caring for people following miscarriages or self-managed abortions.