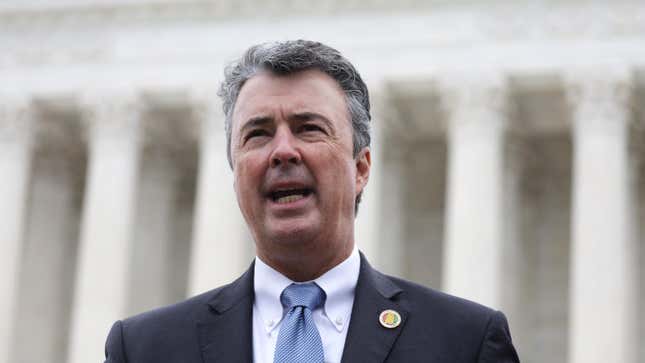 The Department of Justice said last week that the Postal Service is cleared to keep delivering abortion pills across the U.S., even to states that have banned abortion. Alabama Attorney General Steve Marshall (R), a rabid opponent of bodily autonomy, is unsurprisingly unhappy about the news, and on Tuesday told AL.com that women and pregnant people who use abortion pills in the state could be prosecuted. An advocacy organization for pregnant people pledged to challenge any prosecutions.

Uterus Weekly: 15-Week Abortion Bans
Marshall said people who use abortion medications wouldn't be charged under the state's abortion ban, which exempts pregnant women, but instead via an older law that AL.com said was "initially designed to protect children from meth lab fumes." The outlet also noted that while Marshall has threatened abortion providers and people who help others obtain an abortion, "this is the first time he has said police and prosecutors could arrest women who have undergone medication abortion."
Marshall had not independently announced his plan; it appears that AL.com may have been seeking clarification about a comment Marshall's spokesperson made to local outlet 1819 News last week about abortion pills and the chemical endangerment law.

Marshall said in an emailed statement to AL.com that the abortion ban "does not provide an across-the-board exemption from all criminal laws, including the chemical-endangerment law—which the Alabama Supreme Court has affirmed and reaffirmed protects unborn children." He added: "Elective abortion—including abortion pills—is illegal in Alabama. Nothing about the Justice Department's guidance changes that...I will vigorously enforce Alabama law to protect unborn life."
Long before the federal guidance last week, services like Aid Access have been shipping abortion pills from India to people in states with bans. After the Supreme Court overturned Roe v. Wade, USPS asked for clarification on its workers' legal risk for unknowingly delivering the medication.
Marshall's intent to use the 2006 chemical-endangerment law to charge abortion seekers is troublesome in many ways. First, it was never supposed to be used to criminalize pregnant people themselves, though it shamefully has. Pregnant people are already being arrested for using drugs in Alabama—and even one who wasn't pregnant, but whose child told a social worker she was. The law was also used to arrest a pregnant woman taking a prescribed pain medication. The state Supreme Court agreed in 2013 and 2014 that district attorneys could prosecute pregnant people, and the law has been used against more than 1,000 women, including those who experienced miscarriages and stillbirths after using drugs.
The second issue is that the 2006 law is only supposed to apply to "controlled substances," or things on the Drug Enforcement Agency's list of scheduled drugs. Things like drugs with addictive potential and (somehow, still) cannabis. The abortion medications mifepristone and misoprostol are not controlled substances, but the state already expanded the letter of the law, so it's unlikely it will be restrained by it going forward.
Emma Roth, a staff attorney at the advocacy group Pregnancy Justice, said in an emailed statement to Jezebel that Marshall's intent "to weaponize the chemical endangerment law to criminalize patients for seeking abortion medication is extremely concerning and clearly unlawful."
Prosecutors have twisted state law to prosecute pregnant people and going after people who end their pregnancies with abortion pills would undermine the goals of lawmakers who passed the 2019 abortion ban, she said.
"The Alabama legislature made clear its opposition to any such prosecution when it explicitly exempted patients from criminal liability under its abortion ban," Roth wrote in an email to AL.com. "Yet Alabama prosecutors and courts have shown a willingness to disregard legislative intent time and again in their crusade to criminalize pregnant women."

She added that Pregnancy Justice will challenge any state attempt "to expand the chemical endangerment statute to criminalize the use of abortion medication."
JaTaune Bosby Gilchrist, executive director of the ACLU of Alabama, told AL.com that people have the right to receive medications prescribed elswhere. "The Alabama Attorney General lacks the jurisdiction to prosecute Alabamians from receiving legal and legitimate medical services prescribed outside the state of Alabama."
It's heartening that advocacy groups are out guns blazing. But in reality, it only takes news coverage of one prosecution—or plans to prosecute—to scare people out of trying to end their pregnancies.