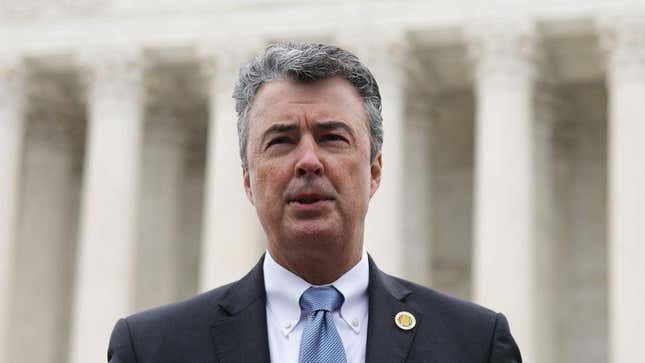 In a Monday court filing obtained by CNN, Alabama Attorney General Steve Marshall (R) characterized the act of traveling out-of-state for abortion as amounting to a "criminal conspiracy." The filing comes as part of an ongoing lawsuit brought against Marshall by healthcare providers in the state who say he violated their constitutional rights when he threatened criminal investigations for organizations that help pregnant people travel for abortion.
Republicans Pull Out All the Stupid Stops While Debating Abortion
Attorneys for Marshall wrote that those who help facilitate abortion out-of-state—including helping people pay for the costs of lodging and transportation across state lines—are engaging in criminal activity. "The conspiracy is what is being punished, even if the final conduct never occurs," Marshall's filing states. "That conduct is Alabama-based and is within Alabama's power to prohibit."

Earlier this summer, Marshall also joined 18 other Republican state attorneys general in signing a letter against a policy proposed by President Biden to increase protections for patient privacy, in order to protect abortion patients from surveillance and possible criminalization. In the letter, the attorneys general rejected the proposed rule because it would "curtail the ability of state officials to obtain evidence of potential violations of state laws," and argued that states where abortion is banned have a right to medical information about their residents who travel elsewhere for abortion care.
For years, before the Supreme Court overturned Roe last summer, Republicans claimed to advocate for the abortion "issue" to be decided by the states. We were told if we needed to access abortion care we could simply travel to a state where it was legal. That was always a lie—their mission has always been to end abortion or come as close as they possibly can, since ending abortion is impossible.
Instead of abortion as a "state's rights" issue, the act of helping people travel for care is now being framed as a "criminal conspiracy" by Alabama's top law enforcement official. Earlier this year Idaho enacted a law to criminalize "abortion trafficking"—that is, helping minors travel across state lines to access abortion care, and even giving minors information about abortion—threatening offenders with up to five years in prison. And last year, Senate Republicans blocked a bill to codify a right to interstate travel for abortion.
Marshall's court filing is especially concerning as people are already facing criminal charges and legal repercussions, not just for their own pregnancy outcomes or abortions, but for helping other people get care. In Nebraska, the mother of a teen girl who was sentenced to 90 days in jail for having a self-managed abortion was charged with concealing a death and false reporting for helping her daughter access abortion pills. And in Texas, women who helped their friend get abortion pills were sued by their friend's ex-husband under a state law that allows people to sue anyone who helps someone access abortion for at least $10,000.
As states with abortion bans double down on their efforts to surveil and possibly criminalize interstate abortion travel, Democratic governors in some states are moving to protect abortion seekers: In Illinois Gov. J.B. Pritzker (D) recently signed legislation to protect the license plate data of people coming to Illinois for abortion care—should they face investigation in their home state. Illinois has become a top destination for abortion for out-of-state travelers and a haven for the health service in the Midwest.
We always knew that post-Roe, pregnancy would become a possible crime scene vulnerable to state surveillance and criminalization. Now, Republicans like Marshall are leading the charge to threaten those who help people access abortion, too.