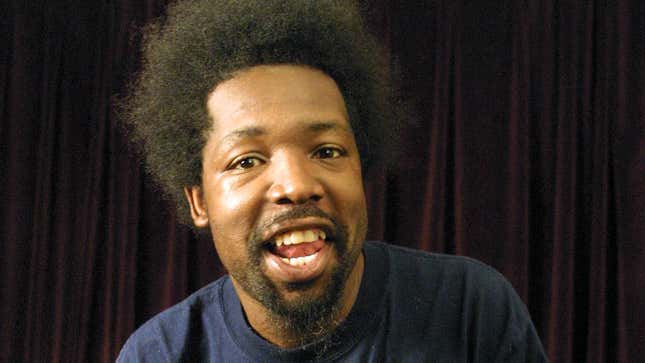 In spirit, Afroman's recent comments to Vice about the invasion of privacy lawsuit he's facing are defiant; in practice, they're jubilant. The singer-rapper, whose real name is Joseph Edgar Foreman, could barely contain his laughter as he talked about being sued by cops who raided his Adams County, Ohio, home in August, rifled through his things, took some marijuana paraphernalia and money, and apparently found nothing worth arresting him over.
Afroman used the security footage his cameras captured during the raid in videos for songs about the incident, which the Adams County Sheriff's Office recently sued him over, claiming "invasion of privacy." As the musician told Vice, "Life brought me a bad situation, and with that bad situation, I got a viral song."
Reflecting on the experience, which Afroman previously himself threatened to sue over, he said: "I thought they were big, bad, tough cops. I felt bad because they could kick down my door and all I could do was rap about it."
And then, with a smile, he added: "And come to find out my raps hurt their feelings and humiliated them."
In an interview with VladTV in January, Afroman admitted that the raid had been a boon to his creativity. "When they kicked down the door, they gave me relevant, interesting material," he said. In an older Vice interview, also from January, he described the prosocial motivation for turning the raid into art: "From what I understand, these sheriff's officers in this county have been doing people dirty for a very long time and getting away with it. But nobody has the publicity or the eyeball that I can put on 'em like me."
Additionally: "I hate to keep singing that old racism song, but gee whiz, man, I really don't know. You didn't have to raid my house with guns for a vape pen somebody else left at my house. I don't have a million pounds of weed in my house. I don't have enough weed in my house to get them to run up my driveway and react like that."
In the most recent interview with Vice, he said, "When I first heard about the lawsuit, one of my thoughts was anger…And another thought I had was just laughter." Clearly!
"I'm like a rapping super hero," said Afroman. "Don't fuck with me or I'll rap about you." Dare to prove him wrong!