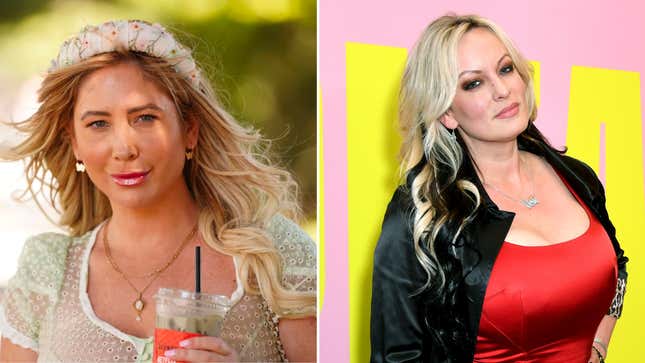 Since last we heard from Stormy Daniels, she was basking in the criminal indictment of former President Donald Trump for having sent her hush money payments on the 2016 campaign trail. Now, in an eyebrow-raising excerpt from the forthcoming memoir of an adult film star who once worked under Daniels' direction, Daniels is accused of deliberately ignoring sexual assault on set.

Infamously Thin-Skinned Man Joins Twitter's Board
The excerpt from Tasha Reign's memoir From Princess To Porn Star: A Real-Life Cinderella Story, exclusively shared with Rolling Stone this weekend, claims Reign was groped by a cameraman on the set of the 2018 adult film The Set Up. Reign says that after came forward about the assault, no action was taken against the cameraman.
"I looked directly into this cameraman's eyes and said, 'Why did you do that to me? Why did you grab my ass and sexually assault me? Why?'" Reign wrote. "With Stormy standing right there, he said, 'It was a joke.' I felt like I was living a nightmare. This guy had openly admitted what he did, and no one cared."
Reign claims Daniels then "took me in a bedroom and had a talk with me," allegedly telling Reign, "Tasha, he's so upset—you really hurt his feelings." Reign says that she "couldn't believe I was being gaslit by this woman I had looked up to for so long."
"I explained in depth over and over again what happened and how I felt. She seemed to have empathy. She seemed to be listening. But then I realized there would be no repercussions. Nothing was going to happen to this abuser. Nothing," Reign wrote. "He got to stay on set. She just wanted to wrap this movie and not lose money by having me walk off."
Representatives for Daniels did not immediately respond to a request for comment from Jezebel. But Daniels has previously denied Reign's version of events amid a Twitter feud between the two in January 2018, shortly before Daniels came forward about her experience with Trump in March. Shortly after Daniels railed against support for #MeToo at the Golden Globes, she tweeted, "Instead of thinking"what a great time to be a woman all I find myself thinking is 'what a terrible time to be a man'. How horrifying to have a penis tonight at Golden Globes.Not all men are monsters.Making EVERY award about your agenda is not right. Its like Kanye/Taylor on repeat," she wrote.
In response, Reign tweeted: "Are you kidding? Please don't get me started about the environment on your set. … Women are finally able to speak their truth about sexual harassment. Not supporting this movement speaks volumes to misogyny. Our industry is no exception." Reign later added, "I was innapropriately [SIC] groped and sexually harassed by one of the men on your crew November 15th… Which you were then made aware of that day. You continued to allow him to stay on the set with no reprocussion."
Daniels then denied that the alleged assault happened and accused Reign of trying "to undo 15 years of my reputation and his career."
Earlier in the excerpt of her memoir, Reign recalls seeing Daniels as an inspirational figure, claiming that when she was in high school, Daniels "was the first adult film star I had seen in a documentary on television." After Reign entered the industry, she says she and Daniels "signed autographs at the same booth at conventions," "danced at the same strip clubs," and "had even chatted" multiple times. When she was cast in The Set Up, Reign saw the opportunity as "a milestone" for her career because she would be able to work with Daniels.

After the alleged assault, Reign claims Daniels' film moved forward anyway: "That's how show business works; you don't get sick days or sexual violence days. You finish what you start, and so I did," she wrote. Reign also claims her career suffered as a result of the alleged assault, as "months rolled by" and she was unable to book films. Nonetheless, she took it as a victory when, in September 2019, Wicked Pictures announced "a new sexual harassment training program for all of its U.S.-based production sets."
In her memoir, Reign says the incident on Daniels' set wasn't "the first time" she'd been sexually assaulted on a set, but she was determined for it "to be the last."