In a new report from the Hollywood Reporter, domestic violence activist and author Sil Lai Abrams has accused Russell Simmons and Extra host A.J. Calloway of sexual assault—two alleged attacks 12 years apart from one another. Currently, more than a dozen women have come forward alleging assault by Simmons, from the early '80s to as late as 2016.

Abrams came forward, anonymously, about both instances in her 2007 book No More Drama. In it, she describes being raped in 1994 by "Ronald," a man "well known for only dating models and for his hard-partying lifestyle funded by his very successful record label." A "well-spoken B-list celebrity Ray," she claims, assaulted her in 2006.
In November of last year Abrams approached MSNBC's Joy Reid about going public with the names of her attackers, only to have the process dragged out and, eventually, dropped by the network, who ghosted Abrams' requests in April of this year:
Reid started to dig into the story. In mid-December, MSNBC's standards and legal departments began putting Abrams through a grinding vetting process. She responded to their requests, providing documents from years earlier, including several court orders issued in New York against Calloway. She supplied contact information for sources who could verify aspects of her past, including some who had been told of the alleged assaults in the immediate aftermath.

In January, Reid taped an on-camera interview with Abrams at MSNBC's New York studio. But a process that had begun in December dragged on frustratingly for weeks and then months. At times, Reid texted or emailed Abrams about her sense that the network was "slow walking" the story with "stupid" requests. Finally, in April, Abrams says Reid told her that the network was no longer responding to her queries as to when the segment might air.
G/O Media may get a commission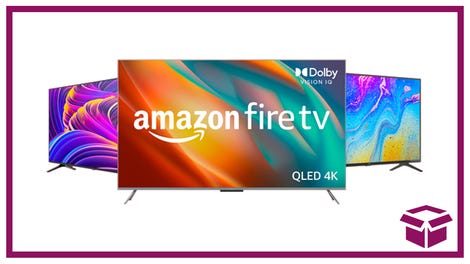 Ooh. stunning.
New Amazon Fire TVs
MSNBC provided the following statement in response:
"When MSNBC pursues any investigative story our mission is always to be as thorough as we can, to scrutinize sources and corroborate information before we report. Anything else falls short of our journalistic standards."
And another, direct from Reid:
"Investigative reports like these take time, and not surprisingly, sometimes journalists get frustrated as well. I inappropriately shared that frustration privately with Sil Lai. I completely respect MSNBC's standards and practices. Meticulous research to get the facts right was the only option, especially given the seriousness of the allegations."
After Simmons and Calloway sent "threatening letters" to NBC on February 23 of this year, Reid—Abrams' point person on the story—told her, "If my company will trust the evidence I've shown them, which is substantial, they will do the story." They killed the story two months later.
NBC has a history of mishandling stories like these, especially when their own team is called into question. When allegations against former morning show host Matt Lauer became public, NBC reportedly changed their sexual harassment guidelines—bringing about criticism for doing too little, too late. NBC's head of HR resigned in the midst of Lauer fallout. There's also the case of the "Grab 'em by the pussy" tape, which resulted in the suspension of Access Hollywood's Billy Bush, who was eventually fired a full year after the Washington Post first unearthed the tape.
Abrams summed it up:
"The system is working as it always has. Stories are being silenced and it doesn't matter how much information, how much corroboration and evidence that you have. You can do everything the right way and you'll still be shut down because a news organization doesn't want to take a risk and face a potential lawsuit, which perpetuates the abuse of power and empowers men like Simmons to say they're going to be OK...

[NBC] took away my voice. I want people to understand how incredibly challenging this is, with a story like mine that's highly sourced, with me doing this [advocacy] work in the public arena. And I can't get my story out there? If I didn't have those things, let's be very clear, no one would know about this today. I'm speaking out for all the other women who have been silenced, to let them know it's not their fault."
Read the full Hollywood Reporter story here.