Despite what Radar Online or US Weekly believes, ABC's tribute to former Bachelor contestant Gia Allemand who committed suicide last year was not touching. The are a few other words for it, however, that are fitting: money-grubbing, tasteless and unhelpful.
The Bachelor officially begins Monday night, but in order to milk their franchise for all its worth properly acknowledge the recent death by suicide of Allemand, ABC decided to air a preview episode of the season Sunday night. But the entire episode wasn't dedicated to Allemand – her short segment was placed towards the end, after we'd learned all we could about Juan Pablo but before a sneak peak at this season's wackadoo antics. It was also teased throughout the episode like it was something to look forward to: "Coming up! The Bachelor family pays tribute to one of its brightest stars."
The segment on Allemand consisted of 1. interviews with friends of hers, all of whom are members of the Bachelor universe 2. a slideshow of photos of her set to a song by Matt White from which all proceeds will go to the American Foundation for Suicide Prevention 3. video footage of her during her time on the show discussing how much she loves love 4. a brief interview with her mother where she perhaps alluded to her daughter's unhealthy relationship with her boyfriend.
In the only truly touching moment, Gia's mother Donna Micheletti described how full of life her daughter was:
We all know Gia, my daughter, took her own life. And it is heartwrenching and I wouldn't want to see any other parent go through this and that there is plenty of help for children...women...boyfriends...there's help there for everyone.
G/O Media may get a commission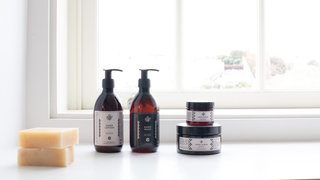 Exfoliate and Hydrate
The Handmade Soap Company
It's unclear exactly what Donna is saying here; she could be alluding to Gia's reportedly rocky relationship with her boyfriend at the time, NBA player Ryan Anderson. Donna went on Dr. Phil this past fall to express her belief that Gia's PMS might have led to her decision to commit suicide, in a horribly tearful interview where she described being on the phone with Gia when she hanged herself.
No matter what led her commit suicide, ABC's tribute to Allemand fell flat but was utterly Bachelor in style. We learned nothing about Allemand, only that she loved love. What did she do? What were her hobbies? None of it mattered: in the Bachelor universe, Gia – who was a runner-up to in Jake Pavelka's season – is apparently best remembered through slow-mo clips of her laughing and a scene of her cuddling with Jake, discussing her desire to one day have kids and a potbellied pig. It almost made it seem as though she was so beautiful and full of life that her death, which could have been prevented, was glamorous too.
The worst part of the episode was the vague suggestion at the end of the segment that those who wanted more information about suicide prevention and Gia should go to abc.com. A trip to abc.com both last night and today has this information about suicide prevention and Gia Allemand buried in the bottom left corner, below endless coverage of Revenge, The Bachelor and their new show Killer Women, with the full name of the American Foundation for Suicide Prevention cut off.
There were other ways this could have been done. While ABC gets small credit for acknowledging the circumstances surrounding Allemand's death at all, they could have decided not to represent the story of her life in such a truncated and meaningless way, sandwiched between utter drivel about Juan Pablo's season that made it appear as though the death of a human was just another part of the saga that is The Bachelor. Though stylistically that seems too much to ask of the network, if they were going to acknowledge Allemand's suicide, the very least they could do would be to properly provide resources for people to learn more about it by linking directly to the American Foundation for Suicide Prevention (which has a prominent link about Allemand and donating in her name featured on its website). As it stands, ABC has made it apparent that advertising for their television shows is more important than a woman who killed herself.
But again, at least they were on-brand. Like every other episode of The Bachelor, the episode ended with a funny behind-the-scenes clip – this time, of Gia.