A judge has granted reality TV svengali Abby Lee Miller permission to travel to New York City to film three paid TV appearances before she heads to prison.

TMZ reports that the appearances were scheduled after her sentencing and, per the judge, she must be back on the West Coast by May 20. As you'll recall, Miller was sentenced to one year and one day in prison for bankruptcy fraud and planned on spending her time in prison pretending that she was in a movie.
Why would Abby Lee Miller need to hustle like this before prison? Wouldn't you think she'd be using her time to mentally prepare for what will probably end up being, like, five months, max? Part of her sentence required her to pay $160,000 in fines. Something tells me Abby Lee Miller has maybe $1,000 and a basket full of jazz shoes to her name. It all makes sense now...
There's still no date set for when she'll start her sentence. Apparently said judge feels confident that she'll make it back as per their orders and that she won't pack a bag full of caftans and sensible sandals and hightail it for fairer shores.
[TMZ]
---
Steve Harvey's second ex-wife Mary is reportedly suing the TV personality for emotional distress, some 12 years after their divorce was finalized.

G/O Media may get a commission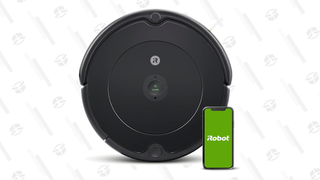 35% Off Black Friday Deal
iRobot Roomba 694 Robot Vacuum
TMZ reports that the suit, filed not by a lawyer, but by Mary's "civil rights activist," seeks $60 million in damages for a whole mess of ailments that she claims stem from their divorce, including "child endagerment, torture, conspiracy against rights, kidnapping, murder, breach of contract and intentional infliction of emotional distress." The documents also allege that Harvey damaged her "soul."
Mary also claims that the damage inflicted upon her by Harvey during their contentious divorce, which was finalized in 2005. In 2011, Mary posted a series of YouTube videos saying that Harvey left her with nothing in the divorce and accused him of having an affair. That accusation was later shut down in court, as a judge handily pointed out that she did indeed get something: three houses, $40,000 a month until 2009 and and an additional $1.5 million.
Mary...best of luck with this.
[TMZ]
---