One year ago, the Supreme Court ruled 5-3 in favor of women's bodies in the historic case Whole Woman's Health v. Hellerstedt.
In the case, lead plaintiff Whole Woman's Health, a clinic in Texas, sued the state in response to law HB 2, which imposed prohibitively costly and medically unnecessary requirements on clinics that provided abortion. Thanks to the court victory, a number of other states were forced to get rid of similar TRAP (or, Targeted Regulation of Abortion Providers) laws. But one year later, Republican lawmakers don't seem to have been discouraged much, and are pushing new bills to try to make abortions as difficult to get as possible.
On this week's episode of Big Time Dicks (our 20th episode! Another historic victory), we speak with Amy Hagstrom Miller, the CEO and founder of Whole Woman's Health, about the Supreme Court win, reopening her new clinic, and the state of abortion rights one year later.
"We have three facilities that have reopened in the state to date. Whole Woman's Health of Austin, and then there's two others," Hagstrom Miller told us. "And I know that many of us are looking at the state and trying to figure out, number one, how do we find the resources to be able to rebuild the care infrastructure and reopen facilities that were shuttered, and then also where are we needed most."
"One of the tragedies of a TRAP law like HB2 is that once you shutter clinic facilities, you've really decimated that care environment in ways that are not only difficult to rebuild, but we actually may never see it rebuilt in the same way. We went from 44 clinics down to 18. One of my takeaways there is that while it was incredibly powerful to challenge this law and to ultimately win in the Supreme Court, what would have been the most effective is if we could've come together and stopped it from passing in the first place."
---
Big Time Dicks can be found on Apple Podcasts, Stitcher, Spotify, Google Play, iHeart Radio, and on the NPR One app.
G/O Media may get a commission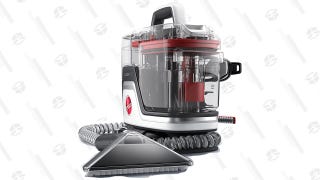 Save $10
Hoover CleanSlate Plus Carpet & Upholstery Cleaner
Want to tell us about a Big Time Dick in your life? Send us a voice note to BigTimeDicks@jezebel.com. Also, please rate and subscribe to the podcast, and recommend it to your friends, to make sure others are able to get their weekly dose of dick. If you need an antidote to this dark (but explained in a fun, relatable way) subject matter, check out our sister pop culture podcast DirtCast.