On Friday, French president Emmanuel Macron tweeted a video of him on a romantic flânerie with Canadian Prime Minister Justin Trudeau. In the video, the two slender francophones can be seen walking the famous gravel garden paths of Sicily (is this something? I've never left midtown Manhattan), speaking in hushed tones about politics, life, their mutual sexual desire for each other and for me.
Here they are again, from a few other angles:
Unless you're a fluent French speaker and an even more fluent reader of luscious French-speaking lips, you probably can't suss out what the two are saying in the video. Fortunately, we've provided a rough transcript.*
MACRON: I thought we'd never get away.
TRUDEAU: It's not safe. There are cameras everywhere.
MACRON: So be subtle. Speak in code. POLITICS POLITICS GLOBAL NUCLEAR CONFLICT. I love you.
G/O Media may get a commission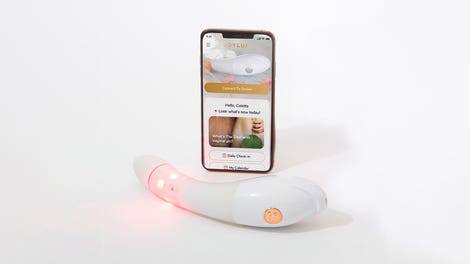 $50 Off
Joylux vFit Gold Device
TRUDEAU: THE VALUE OF THE YEN IS PLUMMETING. I love you too. Run away with me. WE HAVE A COIN CALLED THE LOONIE.
MACRON: But I can't. What about stopping the spread of populism? What about saving the world from the Big Cheese Wizard? [Editor's note: This is an old French folk character—there is no good English translation.]
TRUDEAU: There is no hope! It's coming! Let's escape to my cabin just outside Saskatoon. I will feed you a Tim Horton's biscuit sandwich and help you locate and access your free medical care, even though its such an easy system you won't even need my help.
[Silence as Macron chokes back a tear and subtly touches Trudeau's muscular hips.]
MACRON: Ah, there he is, the Big Cheese Wizard, oafing across the piazza.
TRUDEAU: Pretend we are quarreling or else he will make us watch him stand up and sit down again to prove his strength.
MACRON: IMMIGRATION CRIME BAD you are the only person I can talk to.

TRUMP: Hey turdburgers, what are we talking about, how I crushed Angela [Merkel] in that arm wrestle?
TRUDEAU: That was not Chancellor Merkel; it was my three-year-old son, Hadrien.
TRUMP: Okay. I'm pretty sure it was Angela.
MACRON: Time for me to go.
TRUDEAU: OH YAWN HEE HAW! Am I tired! I'll join you.
Then the two walked together, away from Big Cheese Wizard, across the piazza.
*These words came from my heart, not reality.