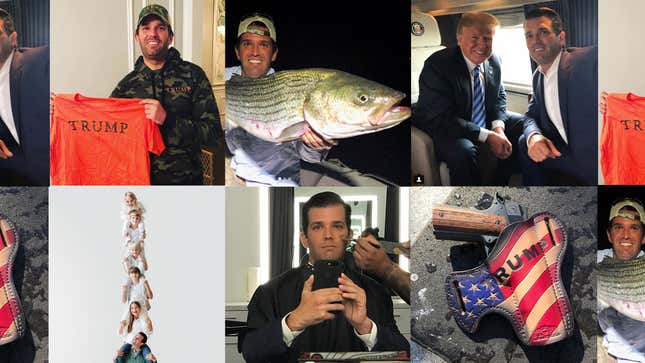 Donald Trump Jr. has spent the last few years successfully pivoting from Large Adult Business Son and Apprentice judge to right wing tryhard who tweets shit like "liberalism is a disease." But while his Twitter account often provides a one-dimensional view of Trump, his Instagram account paints a broader portrait.
In the last year alone, I've visited Trump's Instagram account on an almost weekly basis, garnering a reputation among my Jezebel colleagues as a bit of a Don Jr. aficionado. While I can't claim real expertise (what does it mean to really know a man, anyway?), I'm comfortable with the conclusions I've come to: Trump is a nationalist, a nature freak, a lover of ugly memes, a family man (when he's not reportedly having an affair), a taker of bad selfies, and someone who seems to desperately want his father's love.
How did he reveal his deepest selves in 2018? Let's take a look:
The Bad Selfies:
Selfies are both intimate and revealing. They are pictures we take of ourselves and curate to share with others, depicting us at our most confident and at our most thirsty. What is it about the look of semi-constipation—the tight lips, the strained jaw, the search for relief in his dark, brown eyes—that so appeals to Trump that he returns to it, over and over (and over and over) again?
There's sponcon Don.
And limited-definitions-of-masculinity Don
And gym rat Don (with bad form).


The Daddy Problems
According to a 1990 Vanity Fair story, a 12-year-old Don allegedly yelled at his father, "How can you say you love us? You don't love us! You don't even love yourself. You just love your money."
Those days of outward resentment seem to be behind him, as the Trump of 2018 is instead more inclined to post worshipful memes than speak out in anger about his father.
I checked the Instagram accounts of the other Trump children—Eric, Ivanka, and even Tiffany—to see if they make as many posts obsessing over father president. They do not:
Here's Don with The Big Guy™.

Donald Trump Jr. wants us to find someone who loves us as much as Donald Trump loves America. But an important question emerges: Does Don Jr. find this love in his father?
The star at the top of his tree (of life):

And of course the daddy fan art, memorializing his father as something akin to an American folk hero instead of a purveyor of pure American greed.


Nature and Other Concerns
When I initially embarked on this deep dive into Trump's Instagram account, I noticed that he routinely posted photos of himself like he was Bear fucking Grylls. I assumed it was all an act, but it turns out that he spent summers hunting and fishing with his maternal grandfather outside of Prague. And after graduating from college, spent a year in Aspen, Colorado bartending, hunting, and hiking before accepting that the pull of dynastic wealth and generational scumbag shit was too strong and ultimately returning home to work for daddy. So the outdoors thing might be sincere, but Trump certainly pretends his experiences in nature make him an Everyman while he actually remains, as ever, a rich, privileged asshole.
Anyway, here's Trump with a big fuckin' fish.
And here he is braving an alligator attack (and potential UTI) in a literal fucking swamp to prove he isn't just some rich city boy who went to prep schools before getting shipped off to boarding school.

A Trump gun. 
Okay, we get it, you would fuck a chainsaw.


The Misogynist and Racist Nationalist, but Also Corny
Just look at the incredibly bad Instagram posts.
Chowder Boy and Other Miscellanea

Trump is also a Chowder Boy for Trump properties:
A symbol of unity:
And a bawitdaba da bang a dang diggy diggy diggy said the boogy said up jump the boogy, etc:

As of this writing, Trump posted to Instagram 749 times in 2018. In 2019, we can expect the eldest Trump son to continue his legacy of triggering libs, promoting Trump chowder bowls, and playing with guns for the viewing pleasure of his 1.5 million followers. I, for one, cannot wait to see what this grim future holds.
This has been a terrible year in Donald Trump Jr. Thank you and bawitdaba da bang a dang diggy diggy.
Here Are Don Jr's 749 Instagram Posts Of 2018 So Far