It was a tale of two very different relationships Wednesday night on the Real Housewives of New York in what continues to be an absolutely insane, dynamite season.

We'll start with the bad news. Yesterday, news broke that Jules and her don't-mention-his-height-husband Michael are splitting up. Michael filed for divorce and was allegedly having an affair.
I received this news with both a gasp and a hearty yawn. Real Housewives getting divorced ain't exactly a shocker anymore. Michael was never that great to begin with, but he wasn't exactly a David Foster. He sort of seems like a selfish man-baby who expects Jules to take care of their domestic life and she seems fine with playing that role.
Jules's father is still sick and she is clearly under a lot of stress. Now, I'm not married, but I imagine that these are the exact scenarios that marriages are built for. I'm having a rough time and luckily you, my spouse, are there to pick up the slack.
Nope.
Instead, Michael decides to be callous and deeply self-involved. Jules also complains about him coming home late and constantly being on his phone. I don't know if she found any hotel bills, á la Shannon Beador, but maybe we'll find out next season because Jules suddenly got interesting.
G/O Media may get a commission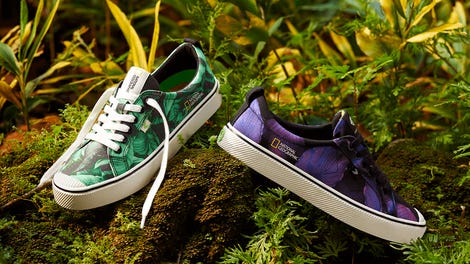 New New New
Cariuma + National Geographic
The timing of the divorce announcement and last night's episode is very curious and seems to have been planned, at least from one of their ends. We can assume that Jules and Michael both probably saw this episode coming. So did Michael file to coincide with the episode (which would be kind of weird because it doesn't make him look good) or did Jules force his hand in some way? Speculate below.
On the flip side, we have Cuckoo Countess LuAnn who is trying her best to pull off some sort of struggle Elizabeth Taylor impression We all know that the soon-to-be-former Countess is engaged to Tom D'Agostino—a man who has banged half her friends—and we're finally watching this romance unfold on screen.
LuAnn must be gunning for the MVP award this season (relatedly, she's getting her own Bravo special?) because hoo boy she is making some good television. This episode consists of LuAnn running around with this maniacal giggle screaming about how she's found her SOUL MATE. K, girl.
Let's pause for a moment and note the timeline of all this. Last night starts three weeks after Ramona's holiday party. Sonja and Ramona claim that LuAnn started dating Tom right after Thanksgiving. LuAnn says it was right before. So it was right after Thanksgiving.
It seems to now be the first week of the new year, so LuAnn has been dating Tom, if we're being generous, about six weeks. Sonja says she hooked up with Tom just a month before, meaning there's a very decent chance that they overlapped and even if they didn't, that means Tom was with Sonja and then a hot minute later moved on to LuAnn. Nice.
For all her many failings, Ramona (who also dated Tom!) has also had a great season. She breaks it to LuAnn that Tom still talks to his ex-girlfriend and recently gave her a gold bracelet for Christmas. Her timing, of course, was terrible, because LuAnn was in the middle of one of her crazed love-wasted laughing fits. Still, Ramona may have no tact, but she ain't wrong. That's some shit I'd want to know about a man I'm supposedly planning on marrying!
LuAnn justifies the absurd escalation of her relationship by explaining that her ex-husband, Count Alex, proposed after just five days. Sure, she was his fourth wife, but they were married for nineteen years and had two children before he cheated on her with an Ethiopian princess. Though, are we calling that marriage a smashing success? I don't know. People fall in love quickly all the time and I guess that's beautiful but I feel like the whole banging your friends/coworkers thing would make a girl pause. But not our Lu.
LuAnn wanted a new husband and goddammit, she got one out of sheer will and the willingness to overlook a plaza of red flags. However, as deranged as she looked last night, I can't help but respect her hustle. If only I was willing to look like an unhinged, lovesick floozy, I too could be engaged to a man who just finished dating my friends.
---
Screenshots via Bravo.