After a Melbourne woman named Eliza Stafford wrote on Facebook that Houston rapper Riff Raff drugged and raped her at a 2013 show, his Australian tour was swiftly canceled. Riff Raff has yet to respond to Stafford's allegation, and now a second woman alleges that the rapper tried to coerce her into sex when she was a minor.
Ana Gasteyer Satirizes the Girl Boss in 'American Auto'
In a phone call with Jezebel, 20-year-old Kelsey Doucette, who shared her story on Facebook on Friday, says that she met Riff Raff when she was 17 years old at the Milwaukee, Wisconsin stop of Warped Tour in July 2015. Doucette attended the tour with four friends, two of whom confirmed the details of her story with Jezebel. Contacts for Riff Raff's management and booking did not respond to requests for comment for this story. A press contact for Warped Tour also did not respond to a request for comment.
Doucette says that because many of her friends there were fans of Riff Raff, she she went for a meet-and-greet with him shortly after his set. It was at the meet-and-greet that Doucette says Riff Raff pulled her aside, confirmed if she was single, and asked for her contact info. He then allegedly put his number into her phone and texted himself from it, asking Doucette to text him to hang out later.
When Doucette rejoined her friends after the meet-and-greet, she describes them as being excited that she got Riff Raff's phone number. Her friends said, "we have to hang out with him." After Doucette's phone died, she says that one of her friends kept texting Riff Raff from another phone and, about a half an hour later, after the meet-and-greet, a member of the rapper's crew escorted the group from the venue to the rapper's tour bus.
G/O Media may get a commission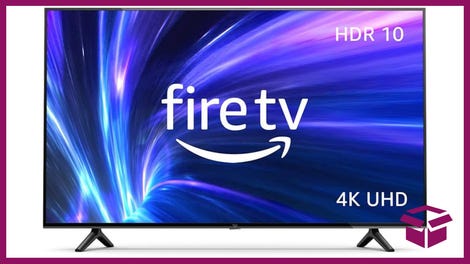 42% Off
Amazon Fire TV 50" 4K Smart TV
Doucette says her intentions in getting onto the bus (which she later tweeted a video of) were to get her male friends in, who were excited at the prospect of hanging out with Riff Raff. But she said the man from Riff Raff's crew told them, "Well, I don't know how he's going to feel about having three guys in the van so you girls can go in and see what he says about it," and then made her three male friends wait outside. Only Doucette and her friend were permitted on the bus with the rapper. "We just kind of made small talk," she says. "I didn't really know much about anything, just knew that my friend was talking about the new bus and I knew [Riff Raff] was on tour this summer so we talked about that." She says he offered to make the two girls drinks, which they both declined.
Doucette says Riff Raff then asked if the girls wanted a tour and she said yes. After showing off the main area of the bus, she says he asked if she wanted to see the back. "I went to go follow him and I just remember looking back at my friend and had that feeling she wasn't behind me," she says. "I looked back at her and she was sitting on the couch shaking her head like, no, let's go." Doucette's friend then said that she'd wait for them in that front area of the bus.
When they reached the back area, which Doucette describes as a master suite, she says Riff Raff closed the door which made her feel "super, super awkward." Doucette says she leaned up against the wall with her arms crossed in front of her and tried to ask about the room. "He went to lay down on his bed and he said come lay down with me, check out these sheets," she says. "I was like, no, I'm good standing and then he was like, why not, I thought you were single." Doucette says Riff Raff then forcibly "pulled [her] hand" and "made [her] lay down on the bed." "I was just freaked out and he could honestly probably tell I was freaked out," she says.
Doucette says she sat up on the bed quickly and says that Riff Raff began to touch her legs, her arms, put his hand on the inside of her waistband, tried to kiss her on the lips, and asked her to have sex with him. She says he repeatedly asked if she was single and if she was on birth control. "Even though I kept swatting his hands away and stuff and just kind of nonchalantly moving them away from me, he kept trying to touch me and trying to kiss on my neck... and at that point I was like, please stop, don't do this anymore," she says. She says Riff Raff said they could go in the shower and at one point whispered in her ear, "I'll even let you have my babies," which she describes as her "breakthrough."
Doucette says she asked him what time it was and got up from the bed, saying that she had to leave, and Riff Raff opened the door for her. She says her friend was no longer waiting for her in the bus but found her outside with her other friends in the area where tour buses were parked. Doucette says her friends began bombarding her with questions and asked if the bus was cool. "I was like, yeah, it's cool and they could just tell I was out of sorts and were asking me what happened," she says. "I said he tried to kiss me and I didn't really go into extreme detail with them because I just didn't feel like explaining it at the time." She later tweeted about the incident the same day on July 28, 2015.
Both Stafford (who writes that she was drugged backstage at a Riff Raff show) and Doucette's story highlight the ways in which backstage access can easily become predatory for fans, a pattern which remains a consistent problem in music. In 2017, Buzzfeed reported on how R. Kelly first met one of the young women in his alleged "cult" backstage at a show in 2015, Nelly was also accused last year of assaulting a woman on his tour bus (both Kelly and Nelly deny the reported allegations) and two crew members of The Weeknd's tour were alleged to have raped a woman backstage at a Ohio show last year. While sexual assault is a problem at music festivals between attendees, it's also a problem in the private dressing rooms and tour rooms of major artists, incidents which have long been normalized in an industry rife with stories about groupies and statutory rape.
"I was really freaked out at the time," Doucette says of her experience with Riff Raff. "When I was 17 I never really heard stories about rape or whatever but I would always hear stories of like, oh my god, this girl got with this DJ or this girl got with this famous artist or whatever and that was so cool. And I thought oh god, this is not cool right now, this is very weird. This is something I don't want to be in, I don't know why people talk about these things being so great. I was genuinely scared."
Warped Tour in particular has come under fire in the past few years for misogyny. The band Front Porch Step, whose lead singer was accused of misconduct by several women (and denied the allegations), played the tour in 2015 despite protests. That same year, the band Slaves was kicked off the Warped Tour after the lead singer was accused of sexually harassing a woman working merchandise at the event. In an interview with Billboard, when asked about dealing with the sexual harassment issues on the tour, Warped Tour founder Kevin Lyman said, "If you really go through all that stuff, things happen prior to the tour or things… it's part of the culture."
Even though Doucette tweeted about her experience at the time and her friends backed up her story, she says those at her high school and within her self-described small community thought she was lying or that people would joke about it. "I didn't feel like I could openly talk about what really went down because of how scared I was," she says. She would text Riff Raff only once again a year later, at the urging of a friend who joked that he might buy her a car. She says she texted him "lol, wanna buy me car," to which he responded "haha, that's my favorite," and that was it.
Seeing Stafford's post and the attention it received, Doucette says, was vindicating. "Any artist who's out doing those things absolutely doesn't deserve where they are," she says. "And then to let to those things keep happening is totally not okay." She adds that "it's important to talk instead of letting things build up inside and eat at you. It's awful that these things happen, but I want people to know that there are so many people out there who will listen and understand, whether it's a friend, a parent, a counselor, etc."
Those seeking resources for coping with sexual assault can reach out to organizations like RAINN (the Rape, Abuse and Incest National Network) as well as their website where they link to dozens of national resources.