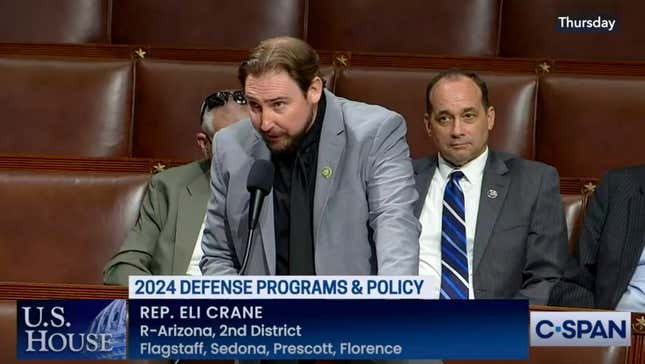 On Thursday—in the year 2023—Rep. Eli Crane (R-Ariz.) referred to Black military recruits and service members as "colored people." He used the term during debate over an annual defense spending bill that Republicans are politicizing, in part by trying to restrict abortion access even further for military members and their families.
Crane, a Navy veteran, proposed an amendment to the National Defense Authorization Act (NDAA) that he said would prevent the Department of Defense from using race, gender, religion, political affiliation, or "any other ideological concepts" as the sole basis for military recruitment, retention, and promotion.
When defending his proposal on the floor, Crane said: "My amendment has nothing to do with whether or not colored people, or Black people, or anybody can serve... What we want to preserve and maintain is that our military does not become a social experiment."
Rep. Joyce Beatty (D-Ohio), the former chair of the Congressional Black Caucus, immediately moved to have his words stricken from the record, saying that she found the term to be "offensive and very inappropriate." Beatty said: "I am asking for unanimous consent to take down the words of referring to me or any of my colleagues as 'colored people.'"

Here's a clip:
Crane rose to speak again and asked to amend his comment to "people of color." Beatty responded, "I'm asking for unanimous consent, Mr. Speaker, to have the words stricken. I didn't ask for an amendment." No one objected. Crane's amendment passed later in the night by a vote of 214 to 210.
Forbes has a video of even more of the debate preceding the remark and it's really not a good look for Crane. At about the 4:30 mark, Crane said, "I happened to join the Navy the week after 9/11. I can tell you this: I served with all sorts of people from all over the country, multiple colors."
The comments came days after Sen. Tommy Tuberville (R-Ala.) once again publicly defended white nationalists serving in the military.
When NBC News asked for comment, Crane said that he "misspoke" and then framed his proposal as banning discrimination. "In a heated floor debate on my amendment that would prohibit discrimination on the color of one's skin in the Armed Forces, I misspoke," Crane said in a statement. "Every one of us is made in the image of God and created equal." This argument sounds a lot like the tired claim that "affirmative action in colleges is racist toward white people."
On top of that, it's pretty remarkable that a member of Congress would have a phrase that's been considered racist for decades so close to the tip of their tongue that they would just blurt it out.