What is this strange new feeling? It's like indigestion, but the opposite—everything inside of me seems to be running smoothly, for once. Are things... good? What is good?
I am feeling the same rush I get when someone brings a new bag of gummy bears into the office, but minus the requisite guilt over taking a giant handful (I need it) and the eventual feeling that my stomach has congealed into lead. I feel like a snorkler looking into the face of a wise sea turtle, or like the donkey-headed guy from A Midsummer Night's Dream who gets to do it with Titania, or like myself two weeks ago when I watched Fantastic Beasts and Where to Find Them for the first time, except it's the news that is making me feel good, not a jaunty animated film about magic.
Tuesday's local and state election returns resulted in a shockingly great night for people who think Donald Trump and the Republican party are bad, a demographic that has had a basically nonstop terrible time over the past year. Guess what, my anxious brethren: your moment to feel okay has come. Below is a list of good things that happened last night. Take a breath. Enjoy! It won't last forever, but here it finally is.
Democrat Ralph Northam won the Virginia gubernatorial election.
Ralph Northam, currently Terry McAuliffe's Lieutenant Gov., wasn't an overtly great candidate or an anti-establishment agent of change. Democrats, eyeing a narrowing lead as election day loomed and recalling grim memories of false 2016 polling confidence, were biting their nails about the possibility that he might lose to Ed Gillespie, an establishment Republican who leaned real hard into Trumpian identity politics in an effort to excite the base. Had Gillespie won, the GOP would have taken this ugly lesson to heart for future races, and Virginia would be facing an awful 2020 gerrymander and a crackdown on voting rights. But he didn't, and that's good. In fact, Northam won by an unexpectedly wide margin.
G/O Media may get a commission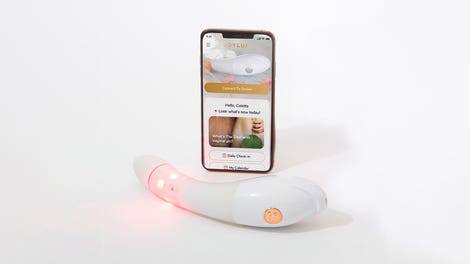 $50 Off
Joylux vFit Gold Device
GOOD-O-METER: A+
---
Three months after white supremacists stormed Charlottesville, Democrat Justin Fairfax won Lieutenant Gov. of Virginia, becoming the first black candidate to win statewide office since 1989.
And progressive Mark Herring won a tight race for state Attorney General.
GOOD-O-METER: 100%
---
Democrats grabbed at least 15 seats in Virginia's House of Delegates.
11 of those 15 were picked up by women candidates. And of those 11, we have: the first two Latinas (Elizabeth Guzmán and Hala Ayala) elected to the Virginia House; Kathy Tran, the first Asian-American woman (she's the daughter of Vietnamese refugees) elected to the Virginia House; and Danica Roem, the first openly transgender person elected to the Virginia legislature. She beat a "proud homophobe" who wrote Virginia's anti-trans "bathroom bill" and campaigned against her using male pronouns.
Other Virginia winners include Democratic Socialist Lee Carter, who unseated the House GOP whip in a nine-point victory, and Chris Hurst, a gun control advocate who ran for office after his girlfriend was murdered on live television.
GOOD-O-METER: Ding ding ding!
---
Progressives won a shit ton of mayoral elections, too.
In addition to New York City's Bill de Blasio, who was swept to an easy victory, a bunch of other Democrats won mayoral elections across the country. Notably: Vi Lyles, who ran on a platform of social and economic justice, was elected the first African-American woman mayor of Charlotte, North Carolina; Jenny Durkan became Seattle's first woman mayor since the 1920's, and its first lesbian mayor; Hoboken, New Jersey elected Ravinder Bhalla, its first Sikh mayor; and in freakin' Helena, Montana, former refugee Wilmot Collins, who previously worked in Montana's Dept. of Health and Human Services, became the state's first black mayor.
GOOD-O-METER: One medium-sized spider-pug.
---
Andrea Jenkins became the first openly transgender black woman elected to public office in the United States.
Jenkins was elected to the Minneapolis City Council, where she hopes to "bring some resources to underserved, underinvested communities."
GOOD-O-METER: Jennifer Lopez's 1997 performance as Selena.
---
Chris Christie will be replaced by a Democrat.
Yes, bitch! Phil Murphy, a staunchly progressive candidate, easily beat back his Republican opponent to become the next governor of New Jersey, where now both the legislature and the executive branch are controlled by Democrats. Murphy is a first-time candidate and former Goldman Sachs banker, which seems... like an odd choice for a gimme election, but NO I WILL NOT LET THIS RUIN MY NICE DAY. He supports unions, gun control, a $15 minimum wage, marijuana legalization—which is now poised to happen—and talks about raising taxes on the wealthy, so, we'll see.
GOOD-O-METER: Learning you are great at doing an Australian accent.
---
Democrats have won full control of the Washington state government.
And Gov. Inslee has indicated interest in moving forward on a carbon tax.
GOOD-O-METER: 500 sparkly gold stars.
---
Maine voters chose to expand Medicaid.
Republican Gov. Paul LePage is refusing to do so, which is crazy and legally questionable, but his term runs out next year and no matter what, this is still a big indication as to where Maine voters stand on healthcare, which is likely to bolster Sen. Susan Collins' resolve on the issue in the future.
GOOD-O-METER: 3 soccer goals in front of your middle school crush.
---
Democrats picked up three seats in Georgia special elections.
And as Vox notes, these seats were uncontested in 2016. Times are a-changin'.
GOOD-O-METER: 10/10 in big red sharpie.
---
A New Jersey Republican who made a sexist joke about the Women's March was unseated by a pissed-off woman.
First-time candidate Ashley Bennett, a Democrat whose candidacy was inspired by Atlantic County freeholder John Carman's misogynistic Facebook meme, is a living catharsis.
GOOD-O-METER: Pushing a bad man out of his position of power.
---
Isn't this a nice feeling? Remember it! Treasure it! Appreciate the hard work that went into creating it! And hey, maybe we will get to feel it again sometime.