Soulja Boy, ever the voice of reason, has had an absolutely wild week, and we thank him for all the memes. In a series of videos and interviews, he's gone after Drake, Tyga, Kanye West, alleged abusers like Famous Dex and 6ix9ine, and probably a bunch of other people—honestly, it's hard to keep track. But if you'd like to try, here's a guide to the past few days in Young Drako (that's what he's calling himself) and his war against everyone.

Quick, let's unwrap this beef before he goes live on Instagram again, shall we?
Monday, January 14:
First, it helps to know what Soulja Boy is mad about. His primary argument is that he had "the biggest comeback of 2018" (where did he go exactly?), and that many rappers have copied his style. According to Complex, he kicked off his week with an Instagram livestream (of consciousness?) rant. It began anti-Kanye and ended pro-Kanye, complete with a request for fans to send him money.
The diss:
"Talk about Kanye West... Kanye West?! [The guy] that's crying about Drake on Twitter every week... that came out with Yeezys? I came out with a video game console! Kanye West ain't never came out with no fucking video game console... I'm the reason Kanye act cocky, 'cause you know why? When I first got on with 'Crank That Soulja Boy,' and I was 16 years old, and I had the No. 1 song in the country, and I went 10 times platinum... Kanye West was standing outside my motherfucking van looking like he wanted to meet me, and I didn't know who the fuck he was."
G/O Media may get a commission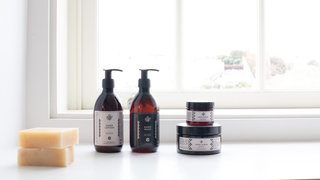 Exfoliate and Hydrate
The Handmade Soap Company
The conclusion:
"Kanye is great now, obviously. Ever since then Kanye acting like he got an attitude."
Tuesday, January 15:
KFC Radio, apparently a rap radio show for white bros hosted by the ever-scummy Barstool, teased an interview with Soulja Boy where he refers to Drake as "Aubrey" and "The kid from Degrassi?" before singing a bit of Drizzy and Lil Wayne's "Miss Me" and shouting, "That's me! That's me! That's my bar! He copy that from me. That's me word for word. YouTube 'Soulja Boy What's Happenin' 2006.' ...How is he more influential than me if he copied my bars?"
Wednesday, January 16:
Here's where it gets juicy: Soulja Boy came after, well, everyone in an hourlong, ridiculously quotable interview on The Breakfast Club.
On Kanye:
"Why you ain't come out with shit then? I came out with a whole video game console, bruh. I'm the first rapper to do that in history, bruh. You ain't Walt Disney. You ain't none of that, bruh... I'm younger than you. I'm flyer than you. Whatever. You crying on Twitter every week about Drake? You gotta stop that shit, bruh. You look lame, bruh. You look cap, bruh... You up here supporting Trump and shit, bruh. You supporting Trump? What the fuck wrong with you, bruh? That shit's not right."
On Drake:
"Drake? Drake? That got bodied by Pusha-T? That's hiding his kid from the world but the world wanna hide from his kid?... Stop playing me like I ain't teach Drake everything he knows. He copied my whole fucking flow! Word for word, bar for bar."
On Migos' "Versace" remix with Drake:
"Migos always been my brothers, though. I flew them to L.A. I was the first rapper that flew them to L.A. They stayed in my house... I was in the 'Versace' video. Drake wasn't even there. He was on the song. Drake ain't even show up. I love the Migos. They'd tell you that shit... The Migos, that beat, 'Versace,' that was my beat! That was my beat. Go on YouTube and type in 'Soulja Boy Teach Me How to Swag Pt. 2.' It got three, four, five million views on that same beat. Zaytoven gave us the same beat. That's how me and Migos met."
On 6ix9ine, who's currently facing life in prison on multiple charges of racketeering conspiracy, violent crime in aid of racketeering, using or carrying a firearm and, in 2015, plead guilty to the use of a child in a sexual performance:
"6ix9ine isn't nothing but a Soujla Boy child. He got all that shit from me when I was beefing with Chris Brown and Migos and Shia LaBeouf and everybody in the industry. 6ix9ine came out and just did the same thing I did. Now he's sitting in jail looking crazy, bruh!"
On Tyga, without taking back previous comments about having a bigger comeback than him:
"I love Tyga. I can't wait to do a record with him but, at the same time, you ain't have no biggest comeback, bruh."
Tyga subsequently hit back on Twitter:
Later that night, Soulja and Famous Dex (you may remember him from the absolutely harrowing 2016 video of him assaulting a woman at a party) got into it on Instagram Live. "And Famous Sex [Ed Note: Yes, that's what he said], you better watch your fucking mouth too... The fuck is wrong with you?" Soulja said, adding, "I put you on, you ungrateful ass little crackhead. Fuck is wrong with you? You a fuckin' junkie. When you left my house, you left, like, a 100 [ecstasy] pills on the ground. You a fuckin' junkie, foamin' out the side of your mouth."
Thursday, January 17:
As if anyone could forget, Young Drako tweeted an abridged version of the previous morning's disses:
Angela Yee, one of the Breakfast Club co-hosts, told Variety about the interview:
"Before he came on the show, he was on his Instagram Live already turned up! So I knew he was going to [give] a memorable interview. When he jumped out of his seat at the mention of Drake's name as the biggest artist in the world. Just even the way he said Drake's name and called him Aubrey will live on forever... For the people who didn't think Soulja Boy influenced so many other artists, their minds were definitely blown."
And it sure will, because Soulja didn't appear to have any interest in dropping the matter. He posted a video clip on Instagram with the caption, "Case closed. Drake been stealing my drip for years‼️" and a shrug emoji. You be the judge:
That evening, he kept the disses going in an interview with Complex, focusing his energy back on Kanye:
"Kanye... your music wack, your clothes are ugly, you crazy, bruh... You wearing Trump hats, you doing cap shit, you crying on Twitter every week about Drake. Bruh, your wife Kim Kardashian, bruh. She beautiful. Every rapper in the rap game follow Kim Kardashian. How you going to get mad at Drake for following Kim Kardashian? You look lame. You need to stop that, bruh. You ain't Walt Disney. You ain't Steve Jobs. You ain't Elon Musk. You ain't did nothing but come out with a pair of tennis shoes."
And at some point throughout all of that, TMZ caught him on the street, where he said he "loves Travis Scott" because "He took Tyga's bitch."
Friday, January 18:
On Friday morning, video surfaced of Brooklyn rapper Casanova confronting Soulja Boy, allegedly in the hallway of SiriusXM, for yelling at a woman, the details of which I cannot even pretend to understand here. He told SB, "You screamed at a lady, you bugging the fuck out homie. You got shit all over your face. Are you bugging out? You high? You smacked? You don't see how she ran out?"
In the video below, Soulja is heard responding back with, "You don't understand how they treat me, bro... If they females, they need to talk like females. Why she talkin' like she gangsta?"
---
And that's it for now, but the week is not yet over. At least the memes are incredible: