Well, that was fast. 6ix9ine (real name Daniel Hernandez) is facing life in prison on charges including racketeering conspiracy, violent crime in aid of racketeering, and using or carrying a firearm.
The rapper was arrested Sunday night. Also arrested were five other suspected members of the Nine Trey Gangsta Bloods (also known as "Nine Trey"), the gang with which 6ix9ine is allegedly affiliated with. The Department of Justice issued a press release that broke down details of the several charges against 6ix9ine and the rest of his purported crew:
The Indictment charges JAMEL JONES, a/k/a "Mel Murda," KIFANO JORDAN, a/k/a "Shotti," JENSEL BUTLER, a/k/a "Ish," DANIEL HERNANDEZ, a/k/a "Tekashi 6ix 9ine," FUGUAN LOVICK, a/k/a "Fu Banga," and FAHEEM WALTER, a/k/a "Crippy," with racketeering and firearms offenses. Count One of the Indictment charges JONES, JORDAN, BUTLER, HERNANDEZ, and WALTER with participating in a racketeering conspiracy for their criminal involvement in Nine Trey. Count Two charges JONES, JORDAN, BUTLER, HERNANDEZ, and WALTER with using and carrying firearms, which were brandished and discharged, in connection with the racketeering conspiracy. Counts Three through Five charge JONES, JORDAN, BUTLER, HERNANDEZ, and WALTER with participating in a gunpoint robbery in the vicinity of West 40th Street and 8th Avenue in Manhattan on or about April 3, 2018. Counts Six and Seven charge LOVICK with shooting at rivals of Nine Trey in the Barclays Center in Brooklyn on or about April 21, 2018. Count Eight charges JORDAN, BUTLER, HERNANDEZ, and WALTER with agreeing to shoot an individual who had shown disrespect to Nine Trey, resulting in an innocent bystander being shot, in the vicinity of Fulton Street and Utica Avenue in Brooklyn on or about July 16, 2018.
At Monday's arraignment, 6ix9ine was denied bail, according to Rolling Stone. The mandatory minimum time in prison he faces is 32 years. Last week, 6ix9ine announced that he'd fired his management team, some of which were people with whom he was arrested.

In a statement, U.S. Attorney Geoffrey S. Berman said:
As alleged in the indictment, this gang, which included platinum-selling rap artist Tekashi 6ix 9ine, wreaked havoc on New York City, engaging in brazen acts of violence. Showing reckless indifference to others' safety, members of the gang were allegedly involved in robberies and shootings, including a shooting inside the crowded Barclay's Center, and a shooting in which an innocent bystander was hit. Thanks to the extraordinary work of [Homeland Security Investigations], [the New York Field Division of the Bureau of Alcohol, Tobacco, Firearms, and Explosives], and the NYPD, the defendants will now face justice in federal court.
G/O Media may get a commission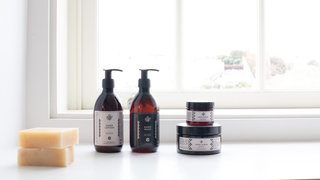 Exfoliate and Hydrate
The Handmade Soap Company
In a frankly astounding October sentencing hearing in 6ix9ine's child-sex case, Hon. Judge Felicia Mennin declined to imprison 6ix9ine despite conceding that he had "technically" violated the terms of his plea agreement. His lawyer, Lance Lazzaro, highlighted acts of charity that 6ix9ine had performed that were captured on Instagram. This seemed to impress Hon. Mennin, who underlined the rapper's "number of acts of unsolicited generosity in service of members of his community." Meanwhile, the prosecution painted an even bleaker depiction than previously reported of the pornographic content featuring a 13-year-old girl that 6ix9ine had appeared in (albeit not having penetrated her himself on camera) and uploaded to his social media.
6ix9ine was sentenced to three years probation. This was less than a month ago. After the sentencing, 6ix9ine posted the following to Instagram: