A homeless man reportedly spent much of Tuesday night asking people outside Bagatelle, a restaurant in Manhattan's Meatpacking District, for something very specific: $100 to spend on "pizza and sex." Fortunately for him, socialite and presumed connoisseur of both pizza and sex Paris Hilton happened to be inside, and she was happy to lend him a hand.

A witness tells Page Six:
"He asked her for $100 as she left the party. She gave the man a crisp Benjamin Franklin."
I imagine she got in her car, asked her driver to "take the long way home," pulled out her phone, opened her daily to-do list app, and marked the bullet labeled "HELP SOMEONE" as complete.
"Another gold star day," she tells her driver as he crawls through the west side.
G/O Media may get a commission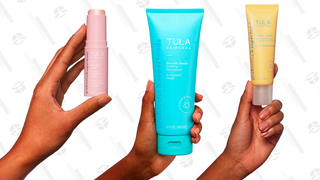 "I'm proud of you, Miss Hilton."
"Thank you, Kevin," she says before sinking into the seat and shutting her eyes.
[Page Six]
---
This quote from Halle Berry about how her smokin' hotness made becoming an actor difficult is funny, and reminds me of when Charlize Theron pretty much the same thing earlier this year.

From Us Weekly:
"I came from the world of beauty pageants and modeling and right away when people heard that I got discounted as an actor," she told W magazine for its Royals portfolio. "So, I had the job of trying to eliminate that part of my persona, and Spike [Lee] gave me a chance to do that. And I took on roles early on that really didn't rely on my physical self at all and that was a good way to sort of get some credibility within my industry."
Ah yes, Halle and Charlize somehow managed to break into Hollywood and become international superstars who won Oscars for Best Actress DESPITE their beauty! Mazel tov to both of them.
---
Paris Jackson talked about her ongoing struggles with cyberbullying in a lengthy Instagram story, and expressed sympathy for longtime friend Sofia Richie and Justin Bieber.

---
Upon seeing the first draft of this post, Kate Dries informed me that the answer to that final question is "very."