America's favorite Pound Puppies, the Property Brothers, sat down with NPR for a interview about their memoir, It Takes Two, and, in the process, revealed an anonymous hero whose revolutionary ideas about interior design deserve much more recognition.
Smushed in the middle of this interview about the Brothers' start and how they parlayed failed dreams of working in the entertainment industry to masterminding a reality television empire is this delightful detail about one of the Property Brothers's signature "design" elements," emphasis ours.
Drew: So a lot of our design, when Jonathan and I work with clients, we're being realistic for their lifestyle and what they're looking for.

Jonathan: The big thing is, when we say open concept – and we've even had, we were doing the Today show, co-hosting the Today show a couple months back, and somebody chased us down the street when we were in our car yelling, 'Open concept sucks! Open concept sucks!' Like, some people passionately are averse to, have an aversion to—

Lulu: I work in an open plan office, so I am against it!

Jonathan: Keep in mind, open concept is just supposed to be between the kitchen, dining room and living room. Those are the entertaining areas, where it's nice to have sight lines, you don't want to feel like you're stuck in the—

Drew: No toilet in the middle of the room.
Any casual viewer of the show has certainly witnessed Jonathan Scott, the builder/contractor/former "illusionist," gesture wildly towards an inoffensive wall and threaten to knock it the fuck down. Anyone who values privacy and a door that can be closed at will certainly screamed in teeth-gnashing anger at the television as a computer rendition of the new interior dissolved walls in favor of yawning open spaces. I once saw a couple request that they keep the walls intact in the home they were renovating on Property Brothers; both brothers were truly flabbergasted, but gamely went along with their client's request.
Reader, I must tell you, from the bottom of my heart: open concept kind of sucks. The argument espoused by home renovation experts, including the Property Brothers and their down-home cousins Chip and Joanna Gaines, is that open concept creates sight lines from the front of the house all the way to the back, so that one might keep an eye on little Amatriciana and Alberforth as they toddle on unsteady legs in and around your Saarinen womb chairs as you mush organic squash for their lunch.
Per this informative explainer, open concept living is yet another nightmare that the current mid-century modern boom hath wrought. Open spaces meant that Mom could cook dinner in the kitchen while the babies stuffed Legos in their mouths in the living room and Dad read the newspaper and yelled for more brandy in the den. Everyone could see each other at all times, and if you wanted privacy, you could lock yourself in a bedroom or a bathroom or the linen closet. Ostensibly meant to encourage socialization, it became a scourge that has gripped the home renovation industry by the throat and refused to let go.
G/O Media may get a commission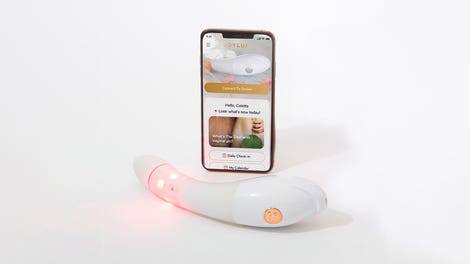 $50 Off
Joylux vFit Gold Device
Open concept living feels lewd—like throwing open the door and seeing someone quickly pulling a shirt over their naked body. Why do guests need to see all the way to the back of your house? Walls are great; you can hang things on walls and also, more often than not, a wall has a door somewhere in it. Doors are great for privacy—highly underrated. Everyone could use more doors, not less. Stripping a home of its walls and leaving a roller rink-sized space to furnish and make less echo-y and unfeeling is bad! Let's stop this or at least curb it somewhat. The person who screamed "Open concept sucks!" at the Property Brothers as they drove by in a vehicle should be Time's person of the year for 2017, for bravely taking a stand against a scourge in home renovation. Save the walls. Preserve the walls.