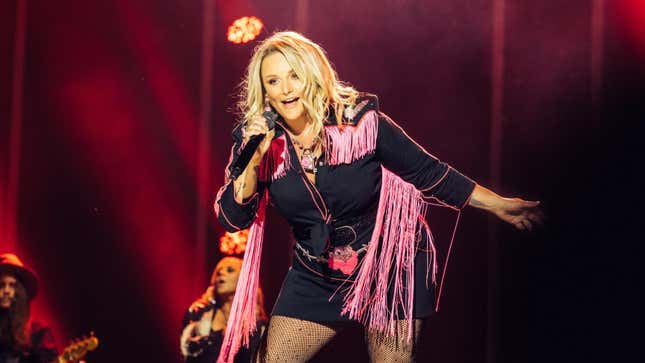 Brother, she's country! And she's also in deep manure with some of her fans.
After a clip went viral of Miranda Lambert chastising a group of fans this weekend for taking a selfie in the middle of her Las Vegas residency, the fans are setting the record straight. Because how dare six nice-lookin' ladies enjoying a night out in Vegas be maligned!
"It felt like I was back at school with the teacher scolding me for doing something wrong and telling me to sit down back in my place," Adela Calin told NBC News Monday night. "I feel like she was determined to make us look like we were young, immature and vain. But we were just grown women in our 30s to 60s trying to take a picture."

Before we dive deep into witness arguments, let's set the scene: On Saturday night, six women go to see Lambert perform her residency at Planet Hollywood. They have an extremely sick setup with a table and bottles of champagne—"the best seats in the house," per Calin. Lambert begins to sing her 2016 song "Tin Man," which, as someone who isn't a huge fan, sounds like a sad and slow ballad. Maybe not the best moment for your sorority squat photo, but I digress.
After Lambert finishes the first verse, she instructs her band to stop playing and says, "I'm gonna stop right here for a sec. These girls are worried about a selfie and not listening to the song, and it's pissing me off a little bit."

Lambert proceeds to start the song over. Most of the crowd seems to scream in support, but you can hear a few fans leaving in the video, saying in frustration, "You don't do that to fans."

"It was 30 seconds at most," Calin added of the debacle, saying her friends were "appalled" at what had happened. "We took the picture quickly and were going to sit back down."

In fairness, they got a really nice photo in which Lambert is perfectly framed between them and the champagne bottle is visible:

Now, the way I see it, there are two potentially valid sides to this story:
1. People just wanna take selfies! I don't think I've ever gone to a concert without taking a photo of our group in one way or another because, as I say, "LIFE: It must be documented." Now, obviously there's a darker side to excessive phone culture at concerts, especially when an entire crowd is blocking rows behind them trying to capture fuzzy concert footage for Instagram, and no one is terribly present in the moment. But still: Bitches gonna take selfies. This is a fact of life, and scolding your fans who paid to go see you play is a bad look.

2. Fans have been acting absolutely out of whack at shows ever since quarantine lifted, with the brunt of that harassment (and flying objects) targeting women artists. So maybe Lambert was just being overly aware of the goings on of the audience members within spitting distance of herself to avoid getting human ashes flung at her face.

Verdict: No, sorry, do not scold your fans for taking a selfie.
---