CLEVELAND — Code Pink co-director Alli McCracken made headlines when, on the first night of the Republican National Convention, she stood up and unfurled a banner.
"Yes We Can End War!" the appropriately pink sign read (Code Pink is a women-led anti-war grassroots organization) and, for a moment, cameras turned from speaker Senator Jeff Sessions (AL) to McCracken yelling, "Trump's hate makes us unsafe!" and "Stop Trump's Islamophobia! Stop Mike Pence's war on women!" A handful of stations caught the ensuing struggle as Trump supporter attempted to grab the sign from her hands and security led her out.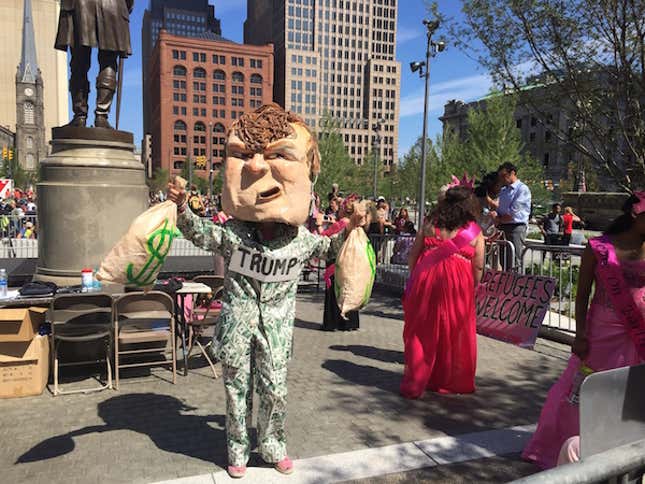 We caught up with McCracken after a Code Pink demonstration in Cleveland's Public Square. McCracken, wearing a suit patterned with $100 bills and an oversized paper mache Donald Trump head, was accompanied by 12 Code Pink members, all dressed as beauty queens (having 13 people in the speaker's corner was technically a violation of the rules). The 27-year-old McCracken told Jezebel that she traveled from Washington, D.C., specifically to protest. "I felt compelled to come to Cleveland to protest the RNC and the GOP platform." She added that, as an activist and young person, she's "concerned with how the government is spending our money and resources. There are trillions of dollars going to war and military spending instead of investing in our future and communities."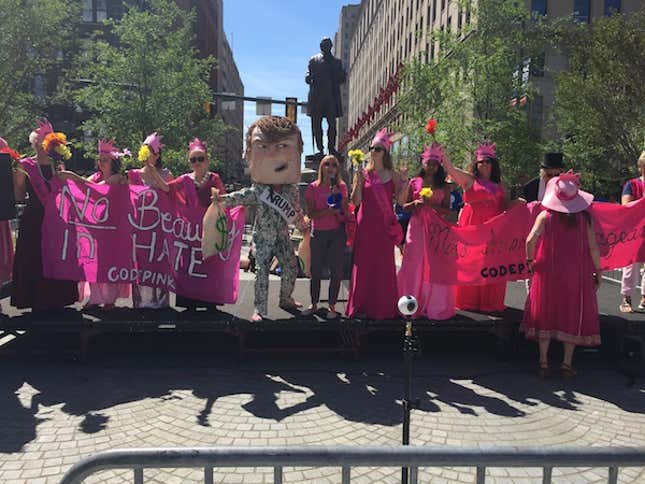 G/O Media may get a commission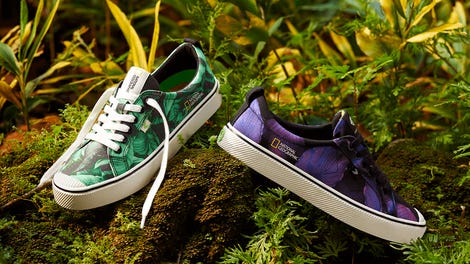 New New New
Cariuma + National Geographic
McCracken said that the group had been in Cleveland since Saturday and that their two trips into the Quicken Loans Arena (co-founder Jodie Evans disrupted the convention last night) were serendipitous. "We got lucky because we found a few badges on the ground, McCracken said. "I think they might have been left by a few sympathizers."

Her decision to disrupt Sessions, who she describes as a "war hawk Senator," was strategic. McCracken chose that moment because "Mike Pence sat down next to me and all the media ran over to me.
"When I saw him all I could think of is Mike Pence's personal war on women and all of the things he's done to restrict reproductive rights and equal pay for women," she added. "I couldn't help myself so I jumped up and yelled out."
After she opened her banner, the handful of people surrounded her, including the founder of Bikers for Trump, and attempted to grab it from her hands and shield her face from the cameras. McCracken said that the incident looked more violent than it was. "I wouldn't characterize it as violent," she said. "I was really surprised that the woman was so determined to get my banner."
McCracken explained that at Code Pink, one of the top rules is "never let go of your banner." "I held on for dear life," she said, "and was able to pull it out a couple more times." She laughed, adding, "My banner had a nice message on it!"
Overall, McCracken said the crowd was "nice and handled me well.
"I'm a tiny white girl and have a lot of white privilege," she added. "I can't imagine how they would have handled a woman of color." She declined to share how she managed to get the banner in the RNC (there are extensive security checks similar to an airport to enter the arena) saying that was a "Code Pink secret."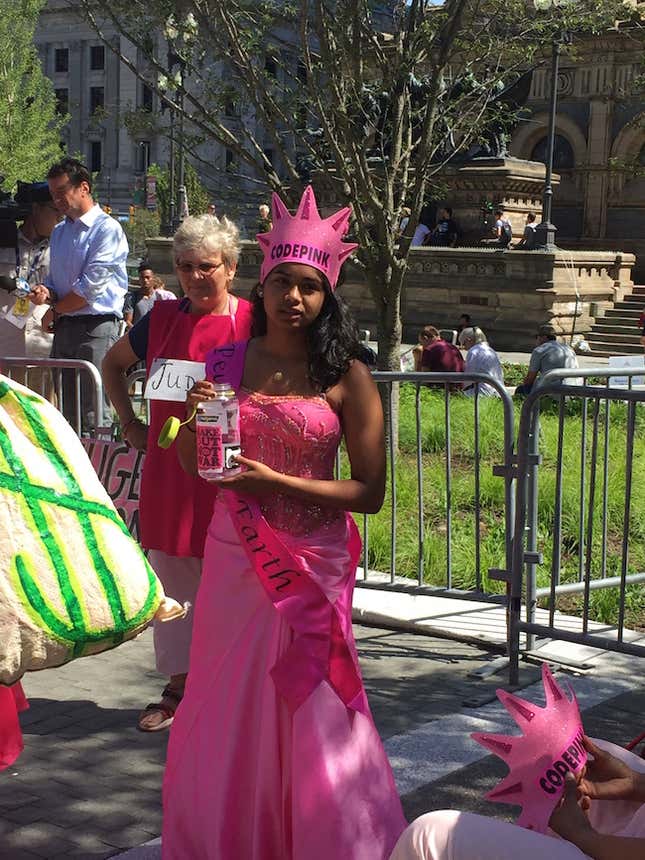 Code Pink will be in Cleveland the rest of the week. The two disruptions at the convention center are part of a series of protests. Yesterday, the group released 500 tennis balls as part of a gun protest. McCracken said that the purpose was to bring attention to the 72 items that have been banned in 3.3-mile "event zone" surrounding the arena. Banned items include umbrellas, tape, water guns, and tennis balls; it doesn't include actual guns or licensed assault weapons.
In protest, Code Pink brought the 500 tennis balls donated by the Brady Campaign and dumped them outside of the main entrance. "The police freaked out," McCracken says, "they were yelling, 'Surrender your balls!'"
Next week McCracken and Code Pink will be in Philadelphia to protest the Democratic National Convention. "We don't like Trump or Hillary, we think they're both war hawks."
Top gif via C-Span, badge by Jim Cooke.