A celebrity dog I never heard of or met in person has passed, and now my emotions are involved.

Holy shit this dog has accomplished more than I ever will.
Toast–the Cavalier King Charles rescued from a puppy mill by the Fat Jew and fashion blogger Katie Sturino–led a storied existence far more eventful than the lives of wretched humans who live vicariously through celebrity. "She wrote a book, had a televised wedding, appears on billboards across the country promoting rescue and modeled for an international eyewear campaign," notes her Instagram eulogy. She was also fond of peeing all over and eating toilet paper.
Toast is survived by husband Finn Hearst, a Dachshund-Chihuahua mix who resides with heiress Amanda Hearst.
Her custodian Kate Sturino wrote on Instagram that Toast's bombshell charisma was the vehicle which she would hop aboard for a whirlwind ride through the fashion industry:
I started Toast's account because she was literally the cutest dog I'd ever seen, but soon I realized she was destined for fame. As a shy person, she provided me a way to showcase my creativity without putting myself on display. I was able to help dogs and live out my crazy dog fantasies. But when Toast was invited to do a shoot with the @manrepeller I met Amelia Diamond. And she asked to do a style profile on me. That story was the reason I launched the12ishstyle and then eventually @megababe Toast was not just a pet to me, she was an inspiration.
G/O Media may get a commission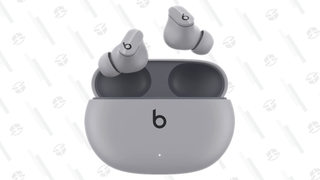 Fashion designer Karen Walker recognized her "it" factor immediately, writing of her eyewear campaign that:
We were after a model for this campaign who could fit with our caramel-y color palette and also someone whose hair would work with our three wind machines hitting her from every angle to create a slightly '70s vibe. Toast ticked every one of those boxes.
Eventually Toast and her mistress Kate married into the Hearst family in a wedding which was officiated by Page Six gossip columnist Cindy Adams, held at the High Line Hotel, featured a $139,000 freaking diamond necklace, was written up in Town and Country, attended by the celebrity doggerati, and broadcast on RHONY. (Generously, a portion of the $150/head wedding tickets benefitted the National Dog Mill Rescue).
Though being a dog and unable to comprehend stardom, or eyewear, Toast–whose signature tongue-sticking-out look originated because her teeth rotted out by the time she was adopted–lived to raise awareness of the horrors of puppy mills. In lieu of flowers, donate to charities via the link in her bio.
---
Enter a new character into the so-far Dickensian story of Ariel Winter's parenting: Ariel Winter's father.
For years we've heard of Chrisoula "Chrystal" Workman, Ariel Winter's most evil troll, who lost custody of Winter (then 14) after being investigated by the Department of Children and Family Services for allegations of physical abuse, sexualizing her daughter, and depriving her food. Winter went on to live with her older sister Shannelle Gray, who, herself, had been placed in foster care at 16. Her father Glenn Workman, estranged from Chrystal, made an appearance in the custody hearings and supported the outcome; he then quietly faded from the narrative while Chrystal bashed her daughter in the media throughout the years.
On Friday, Winter posted a loving shout-out on Instagram to Glenn.
His name in Glenn, and he has a mustache. On the basis of those two items and nothing else, solid dad material.
In other news, Chrystal claims to be living in a storage facility.

---