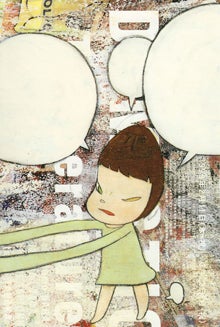 Thirsty Thursday! Today's best comments are drunk on their own awesomeness.
Best Comment Of The Day, in response to Alert God: Jesus Found In Frying Pan: "Okay, I see the Son... but where's the Holy Toast?" And! "Perhaps Jesus appeared as a warning because you took a nap while cooking, you git. 'Be thou not a candidate for social Darwinism.' The Gospel of Yo Momma, 1:34" And! "Bacon we have burnt on high/Sweetly cooking on the range/As the fat begins to fry/Jesus! With a case of mange." • Best Comment Of The Day, in response to Free People & The Ugliest Shoes Ever Conceived: "Free People? More like 'Flee, people!'" (You Say: "And quite often 'twee people.'") And!
The designer's thought process has to be something like this: "I woke up this morning and looked at my Laura Ashley duvet and thought that I wanted to wear it all day long. But that wouldn't be practical because then it would just be a Laura Ashley dress. Then I remembered that the '80's were back and thought leg warmers would be the right purpose for my duvet. But leg warmers are still a little 2007 Madonna, but rain boots and equestrian style boots are totes in right now, why not make duvet-boots?! As I was cutting the pattern I slipped and whoops, OPEN TOES! Aren't they fabulous?"
Reminder: If you see a great, funny, insightful, eloquent (or awful) comment, nominate it! Email the comment and the timestamp link to the left of the comment to Hortense at commenters@jezebel.com.



Meetups? Use the meetup tag page!


Oh! My God! I Miss You" />