In a depressingly American incident, a 4-year-old child walked around an Indiana apartment complex waving a loaded gun, as the footage aired on a live cop show on Saturday. The child, who's seen wandering around sans shoes, even pulled the trigger at one point, though there was no bullet in the chamber.

Nicole Summers, who lives in the complex, saw the child on her video doorbell and called the police, according to On Patrol: Live. The 45-year-old father, Shane Osborne, was arrested on a suspicion of neglect of a dependent, according to a police report obtained by WTHR.
When the police arrived at his apartment, Osborne told police "that he had been ill all day and did not know (the toddler had) left the apartment," police wrote in arresting documents. Police conducted a search, but didn't find a gun. Then, the neighbor who called police intervened and showed the doorbell footage of the child holding the gun.

Summers told WTHR that her son "opened the door" to see what was going on in the hallway, "then shut it and backed away."
"He was like, 'Uh...baby with a gun. Get out of here, get out of here!'" she said. "Then, I looked through the peephole. [The child] was standing in the middle of the hallway, and he was just kind of holding it behind his back, and I thought...like that's a real gun."
G/O Media may get a commission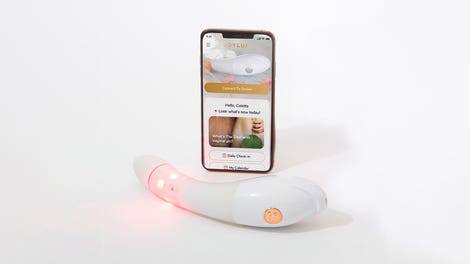 $50 Off
Joylux vFit Gold Device
You can see the child pull the trigger in the video. Upon another questioning and another fruitless search of the apartment, police wrote that they asked the child "where he put his 'pew pew,'" according to arresting documents. The then 4-year-old led the cops to a roll-top desk in the apartment. Osborne, the father, has past convictions and denied that the gun is his. The child is now at his mother's residence, according to local media.
The cops—who, again, were participating in a live television show—were stunned. "It's almost incomprehensible what you're watching," Beech Grove Deputy Police Chief Robert Mercuri told WTHR. "You find yourself catching your breath. I don't know how you can't watch that video, parent or non-parent, and not be shocked and disturbed."

Because this is America, it's not the first time a gun-wielding child has wreaked havoc recently. Earlier this month, a 6-year-old child in Newport News, Virginia, brought his mother's gun to school and shot his teacher in the middle of class. The teacher, Abigail Zwerner, is recovering from her injuries, but that doesn't make the incident any less horrifying.
A new report from the RAND Corporation found that "child-access prevention laws, or safe storage laws, reduce self-inflicted fatal or nonfatal firearm injuries — including unintentional and intentional self-injuries — among youth." But, as CNN has pointed out, there's little nationwide consistency when it comes to safe storage laws. (A roll-top desk certainly is inadequate.)
Summers, the neighbor, said the situation over the weekend was "traumatic."

"We were lucky to see him, to find him, and we were so blessed that gun was not chambered, or that baby could be dead," she told WTHR.