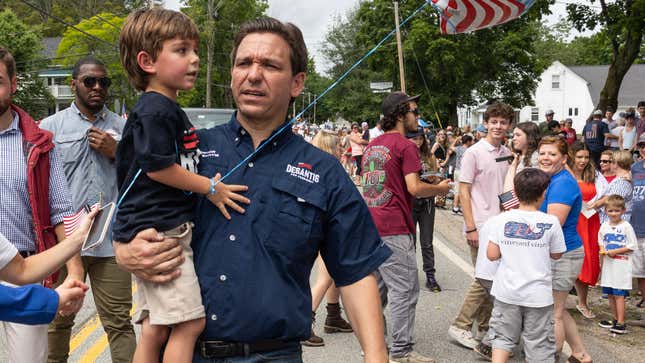 Ron DeSantis' presidential campaign allegedly manhandled and physically intimidated a 15-year-old boy from New Hampshire after the teen, Quinn Mitchell, asked DeSantis about Jan. 6, and DeSantis' inability to answer went viral.

'More to Love' Existed Precariously Between Empowering and Exploitative
"Do you believe that Trump violated the peaceful transfer of power, a key principle of American democracy that we must uphold?" asked Mitchell, who's become nationally famous for showing up to presidential candidates' events to ask tough questions, at a campaign event back in June. DeSantis struggled to answer, embarrassingly insisting that we move on from the insurrection. Footage of the interaction quickly spread across social media and was later broadcast on CNN.
In the aftermath of the gaffe, Mitchell told the Daily Beast that DeSantis' campaign has since gone to extraordinary lengths to stop him from interacting with the Florida governor at subsequent New Hampshire campaign stops—going so far as to put their hands on him. At a July 4th parade, Mitchell and other witnesses say DeSantis' security and staffers "swarmed" the teen and "physically restrained" him. This came "after a brief interaction with the governor," which saw Mitchell attempt to apologize for the backlash DeSantis faced over his question from June—only for a security guard to pull the teen away by his shirt, surround, and corner him. At one point, a security guard cordoned Mitchell off and told him to "stay put."
This prompted Mitchell—who is, again, 15—to text his mother. When his mother arrived on the scene and questioned why his son had been detained and physically grabbed, DeSantis' wife, Casey, addressed Mitchell's mother directly to call her son a fibber: "Well, I'm a mother too. I know what you're experiencing, and we're all very afraid for our children—even if they're exaggerating," Casey reportedly told her, according to Mitchell and other witnesses who spoke to the Daily Beast.
Mitchell says at this point, DeSantis personally told him he would "get to the bottom" of the incident with his security team—but Mitchell and his family have yet to hear from the campaign. At another Aug. 19 campaign event that Mitchell attended, members of DeSantis' super PAC Never Back Down reportedly took photos of Mitchell, and one attendee told the Daily Beast they saw a Never Back Down staffer take a photo of Mitchell on Snapchat with the caption: "Got our kid." When Mitchell raised his hand to ask a question, he was ignored by DeSantis and later barred by security from approaching the governor, as the rest of the audience members were able to chat with the governor and take selfies. According to the Daily Beast, security prevented Mitchell from even "crossing the room to see a family friend" for fear that he would approach DeSantis with another question that could potentially humiliate him.
Mitchell has called the DeSantis campaign's treatment of him "unfortunate, because I just want to ask my question." But he also pointed out that behaviors like manhandling and briefly detaining a teen are "really stupid in a small state like New Hampshire."
New Hampshire is the first state in the nation to hold a primary election, meaning it can make or break a campaign. Since launching his campaign earlier this year, DeSantis has been trailing former President Trump by over 40 points, dropping 11 points after a pivotal campaign relaunch earlier this summer, and has generally become a laughingstock for his complete inability to connect with other human beings. To now bring attention to himself for the physical tactics deployed by his campaign to prevent a teen from simply asking him a question surely isn't going to help.
The details in the Daily Beast's report are jarring—it's not every day that a major presidential campaign treats a lanky kid as an imposing security threat requiring all-hands-on-deck to subdue. But DeSantis being an asshole to kids isn't exactly surprising, considering it's essentially his entire policy platform as governor of Florida, where he's ushered in one law after another to terrorize young people in their schools.