We are still in the throes of a rather lackluster season of RuPaul's Drag Race All Stars and perhaps your attention is flagging. Thank GOD the queens of RuPaul's Drag Race season 10 are here to save you from yourselves, your misery, and your general malaise.
In the words of problematic fave Laganja Estranja, let's get SICK-ening.
::death drops::
::tongue pops in mild panic attempting to stand up::
The individual queens were announced on Facebook Live immediately after Thursday night's episode by Sasha Velour, current reigning champion. The new crop of girls are ready for prime time, squirrels. Let us meet our ten new best friends.
---
Asia O'Hara
G/O Media may get a commission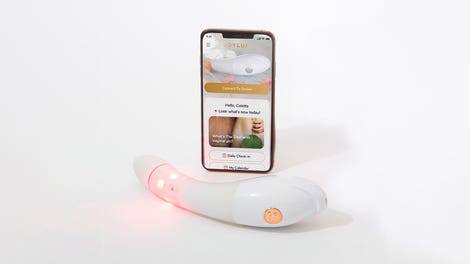 $50 Off
Joylux vFit Gold Device
Asia O'Hara designs figure skating and color guard costumes in her spare time and is the dreaded Phi Phi O'Hara's mother. God love a pageant girl, but I am keeping my fingers crossed that she's not nearly as evil as her child was!!
Aquaria
I am predisposed to like Aquaria as she is Sharon Needles's daughter and so I leave you with this quote about how their beautiful relationship got started, from i-d:
"I never forgot the first day I was announced to be on Season 4 of Drag Race, it was instant applause," Sharon recalls. "And the first one I noticed to change their background, their profile picture, all their social media towards Sharon Needles was this very young boy named Giovanni — this one," she says of Aquaria. "So I always said, 'I'll remember you as my number one fan. And I'll always keep an eye on you.' And I always did."
Blair St. Clair
Welp, I love drag queens and I love Broadway, but I don't know if I love this queen doing Dreamgirls... like this.
Dusty Ray Bottoms
Per himself, Dusty is "dark, glamorous and trashy," three adjectives that make for good-ass television.
Eureka O'Hara!!!
As you'll surely recall, Eureka injured herself attempting a split in a cheerleading accident on maybe the second or third episode of Season 9. She fucked up her knee, took her ass home, and has returned. I loved her then! I will enjoy her again, now.
Kalorie Karbdashian-Williams
Kalorie Karbdashian-Williams is gonna get the big girl edit much like Roxxy Andrews did, mentioning her curves and swerves at every moment, but sure, okay, I'm game.
Kameron Michaels
She is buff as hell, like the doctored photos of Big and Milky from this All Stars cycle's promo pics, but in real life—I respect it.
Mayhem Miller
Mayhem Miller is drag sisters with Raven, Morgan McMichaels, Delta Werk, and Detox. Morgan McMicheals excluded, those are some big-ass pumps to fill, and good luck and godspeed to you.
Miz Cracker

Here is Bob the Drag Queen's daughter Miz Cracker, a fun and free-spirited New York queen doing some light shopping at a bodega in her at-home clothes.
Monét X Change
Apparently this bitch has a degree in Opera Performance which means Blair St. Clair should sleep with one eye open. Recently, she enjoyed parasailing somewhere tropical; please watch this, it is required viewing.
Monique Heart
Per her Instagram bio, Monique Heart loves Jesus. Per my brief perusal of her feed, she also favors a breastplate with bosoms shaped like little torpedos—a look!
The Vixen
The Vixen is yet another Chicago queen in the vein of Shea Couleé, but—VH1's words, not mine—a "woke" one. She's wearing handbags as earrings, one as a hat, and what I hope is a plissé turtleneck caftan. What's not to love?
Vanessa Vanjie Mateo
Alexis Mateo's daughter Vanessa looks a little bit like Aja here, wig-wise and enormous-silver-jacket-wise. That is to say, stunning!
Yuhua Hamasaki
Here is our final queen—a "sickening seamstress" by day who sews 'stumes for Bob and Peppermint and has a whole lot of heart. Why isn't her Chinese New Year look red???

That's it! Those are the girls! They're coming to VH1 on March 22nd, each episode will be a whopping 90 minutes, and Untucked, the best part of a regular season of Drag Race will air immediately afterwards, meaning that those thirsty for additional hot oolong will no longer have to find it on YouTube.
The sneaky little sneaks at Reddit have created a thread of what these queens look like out of drag, if that interests you, but if it does NOT, please lose yourself in their drag eleganza and commence speculation...now!