In this week's compilation of pop culture crap, Kathie Lee Gifford video bombs Kim Kardashian's wedding, child bride Courtney Stodden impresses Australia, and the earthquake was fun for everyone in New York.
1.) Kathie Lee Gifford attends America's royal wedding.
And she makes faces the whole time.
---
2.) $75,000 is literally a drop in the ocean that is the Kardashian fortune.
If you're the kind of person that will freak out about losing something the size of a pebble that's worth $75,000 in the ocean, then maybe you're the kind of person who shouldn't be wearing something the size of a pebble that's worth $75,000 in the ocean.
---
3.) "51 + 16 = Love"
Courtney Stodden and her husband Doug Hutcherson dazzled Australians when they went on a morning show there and joked about Courtney's big rack. The best part is that they confirmed that they are, indeed, shooting a reality show. I have to reiterate that I love her dedication to clear bra straps and upper-arm bracelets.
G/O Media may get a commission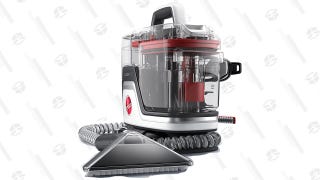 Save $10
Hoover CleanSlate Plus Carpet & Upholstery Cleaner
---
4.) The most important lesson child pageant teaches little girls.
---
5.) The earthquake was fun.
Especially for this girl.
---
6.) Awesome pantsless woman starts shit with cops.
She demanded that they taser her. Her full rant can be seen here.
---
7.) Grossest duel vomit.
The worst one is the guy on the right, Leroy, whose puke is so solid that it looks like Play-Doh coming out of that squishy machine.
---
8.) Howie Mandel's wig.
The America's Got Talent host was on Jimmy Kimmel Live this week and it seemed like his new 'do was part of some joke setup (maybe an out-of-date reference to Chris Gaines?), but it was actually a fashion choice that was not addressed. Like we were supposed to just believe that he has hair now.

9.) Louis C.K. on why dogs are too stupid to reason with.
---
10.) Obligatory little old lady video of the week.