In this week's compilation of pop culture crap, Anderson Cooper gets the giggles, Gloria Steinem shares her abortion story, and evangelicals who believe in the preaching powers of a toddler who can't count.
1.) Anderson Cooper loses his shit.
While doing his RidicuList—rife with pee and poop puns—about Gérard Depardieu peeing in the aisle of an airplane, Anderson Cooper got an infectious case of the giggles.
---
2.) Gloria Steinem: Good feminist.
This week, HBO aired a documentary about the famous women's libber, Gloria: In Her Own Words, in which she talked about her life and feminism. In this clip, she shares that she had an abortion after college and it was partially why, years later, she came to be involved in the women's movement.
---
3.) Gloria Steinem: Bad feminist.
The abortion story is the exactly the kind of thing that you'd expect to hear in a documentary about a lifelong feminist. I was more fascinated by the supposed frivolous aspects of her life, like the fact that she modeled her blond streaks after Holly Golightly, the hooker in Breakfast at Tiffany's, backcombed her hair like a pro and had gorgeous natural nails. She said that even now in her 70s, she still resents accusations that she was successful in her life because of the way she looked.
G/O Media may get a commission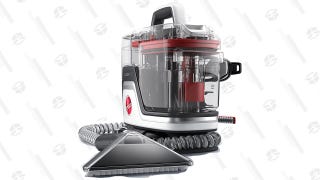 Save $10
Hoover CleanSlate Plus Carpet & Upholstery Cleaner
---
4.) Pint-Sized Preachers.
A National Geographics special aired this week that featured Kanon Lipton, a 4-year-old evangelical boy that started preaching when he was just 21 months old. Normal people would think that he was just mimicking his father and grandfather—both preachers at his church)—especially when he's preaching about money, but the rest of the congregation takes his bible slamming and revival talk totally seriously, despite the fact that he's shown in school, being unable to tell whether the number 2 or 3 immediately follows 1. He also was asked to show his teacher his thumb and he held up his index finger, which should perhaps make his family and parish reevaluate their stance on whether or not we're descended from apes.
---
5.) Strangers With Candy/Super Pac connection.
The Colbert Report has been scrolling the names of people who've donated to its as-yet-to-be-defined Super Pac, and this week, Jerri Blank and Mr. Jellineck chipped in.
---
6.) Kathie Lee's nostrils.
---
7.) Getting drunk with Hoda.
---
8.) Newsflash: Tyra was a bitch.
Tyra has told the story about how she was a bully when she was younger so many times—on her talk show, on ANTM, on Today, etc.—but she rolled it out again at the Do Something awards. Are we supposed to commend her for her honesty that she would kick girls out of her clique because of the way they looked or dressed or walked? Because that's exactly what America's Next Top Model is predicated on. So she's still doing it. Only now she's humiliating girls in front of millions of people on TV instead of tens of people in the school yard.
---
9.) Catching up with Allison DuBois.
The psychic—once infamously featured on Real Housewives of Beverly Hills—is still saying bitchy things around the dinner table, only now it's to her teenage daughter. Also, she has a giant gumball machine in her house.
---
10.) Richard Branson had an adult circumcision.
Either that or he used to get boners as an infant and has an incredibly good memory about them, according to a TMI story he shared with Jane Fonda, which she in turn shared on The Tonight Show.