In this week's compilation of pop culture crap, Kathy Griffin gives Piers Morgan a hard time, Colleen Camp is ornery, and Anderson Cooper takes aim at Chris Brown.
1.) Kathy Griffin impersonates Nancy Grace.
---
2.) Dana Delany gets real.
While on Good Day, Dana Delany mocked Kelsey Grammer's new career goal of wanting to be the mayor of New York without realizing that the show's hosts apparently support him.
---
3.) Chris Brown makes the RidicuList.
Upon hearing that Chris Brown has landed a role in the romantic comedy Think Like a Man—based on a relationship advice book by Steve Hardy—Anderson Cooper put him on the RidicuList.
---
4.) Poop, there it is.
The blow is softened to "cute" when you animate a commercial about a shitting contest.
G/O Media may get a commission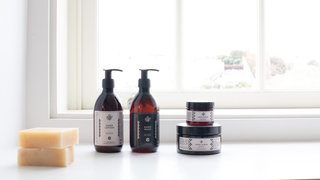 Exfoliate and Hydrate
The Handmade Soap Company
---
5.) "For now, I'm just gonna keep on crunchin'."
This week My Strange Addiction featured a woman who's been addicted to eating rocks for the past 20 years. She finds them on the side of the road and doesn't bother to wash off any car debris or animal excrement before ingesting them. She has had stomach pains, constipation, blood in her stool, and broken teeth from her bad habit. One doctor told her she could die. She isn't phased in the slightest.
---
6.) Ramona & Jill take their feud to Today.
---
7.) "I'm not even that smart."
I really hope some miracle happens and Rachel ends up staying in the Big Brother house because her emotional meltdowns are too much fun.
---
8.) Al Reynolds.
Isn't it weird that one of the recurring fixtures on Basketball Wives—other than earrings that touch shoulders—is Star Jones' ex Al Reynolds?
---
9.) Stacker 2 Energy shots gets the dregs of the Jersey Shore cast.
---
10.) Obligatory old lady clip of the week.
Colleen Camp—you know, the maid from Clue—was on Roseanne's Nuts this weekend, where her short temper and limited knowledge of technology was revealed.