In this week's compilation of pop culture crap, Charlie Sheen's scent is music to his fans' noses, noted fashion photographer Nigel Barker gets makeover, and the "hiccup girl" is a total asshole.
---
1.) Hiccup girl is an asshole.
Yes, it might be stating the obvious that someone who is on trial for murder might have a personality problem, but "hiccup girl" Jennifer Mee is seriously a straight-up asshole, not necessarily because she is allegedly responsible for the death of a young man (although that doesn't exactly make her a nice person) but because she actually let "the fame" of being a person who couldn't stop hiccuping for five weeks actually "go to her head," considering herself an "it girl" when in reality she was more of a "that girl"—as in, "Did you hear about that girl who can't stop hiccuping?" Or "Can you believe that girl who couldn't stop hiccuping was arrested for murder?" She is so much more delusional than any contestant on any "Of Love" VH1 reality show. Additionally, when asked if she feels bad about what happened, she says yes, but only in regards to how it affects her own life.
---
2.) MAKEOVER!
Which is worse: Nigel's acting or his hair? It's such a hard choice! Right?
G/O Media may get a commission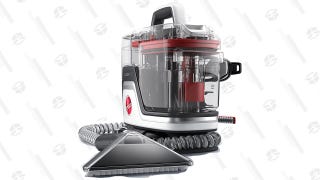 Save $10
Hoover CleanSlate Plus Carpet & Upholstery Cleaner
---
3.) Bill Cosby is the best grumpy old man.
I feel like whenever he's on Today he's always in such a shit mood. However, I wouldn't want it any other way at this point. This week he was asked about Donald Trump running for president, and his answer momentarily silenced Meredith Vieira. Notice how even the description box under his face didn't know what to say.
---
4.) Stupid censoring.
We almost got to learn how to say "shit load" in American Sign Language on Celebrity Apprentice this week, but the jerk ass censors at NBC ruined it.
---
5.) Star Jones and Joy Behar reunite.
Star was a guest on Joy's show and it was the first time the two have been together since Star's acrimonious split with The View. They still had some issues to work through, namely, that Joy never called or sent her regards when Star had open-heart surgery this year.
---
6.) Mildred Pierce's toe job.
---
7.) Brunette Ambition.
Jill Zarin debuted a new look on Watch What Live last night. Then she proceeded to say that she is a really nice person because the mean things that she said about Alex McCord weren't intended for television, as she'd said them privately to a producer while her microphone was on.
---
8.) Hitler Christopher Walken terrorizing college co-eds.
---
9.) Charlie Sheen smells like hoagies and cigarettes.
This lady fan of his caresses her boobs while describing his essence, which is apparently an appetizing mixture of sweat and Marlboro Reds. These people are just as whacked as he is.
---
10.) Tyra is trying to make "zag" happen.