Glennon Doyle Melton, the founder of the Christian mommy blog Momastery who made headlines last year after divorcing her husband to begin a relationship with retired pro soccer player Abby Wambach, has finally (I'm surprised it's taken this long) been given a lengthy profile in a glossy magazine.
The piece, written by Ruth S. Barrett, dives deep into the winding path that brought Melton to the current stage of her career, how her relationship with Wambach (whom she married last month) began, her continued relationship with ex-husband Craig, and all the new friends she's made since revealing her true self to her adoring fans (including writer Elizabeth Gilbert).
While I recommend reading the entire thing as soon as you possibly can, I've cut out the 10 most important things I learned from it.
---
1. Her sexuality:

For the record, she describes herself as "gay for the purposes of activism," but insists that her true orientation defies classification: "My sexuality is Abby," she tells me.
G/O Media may get a commission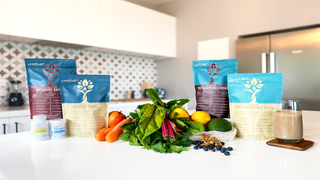 2. Her morning routine:
"[Abby and I] wake up in the morning, and we literally say to each other: 'Coffee and revolution.'"
3. How dangerous her job is:
Melton's star wattage has, at times, unhinged her followers. After several incidents in which the gamine warrior was almost knocked off her heels by stampeding fans, ticket holders for her events now queue up—and at times pay extra—if they want an embrace.
4. That her ex-husband was pretty sure she wasn't straight before she came out to him:
As for Craig, he remembers receiving an urgent text message from Glennon one afternoon, saying she had something very serious to discuss. "It sounded like 911, like Code Red," he tells me over the phone. "I rushed home. On the way, I was thinking, Either she has cancer, or she's gay."
5. What some therapists think of her writing:
"She puts a knot in my stomach," says couples therapist Michele Weiner-Davis, whose latest book is called Healing From Infidelity. "I can't count how many times I hear women quoting her when they come into my office. On the positive side, she wants to empower women. But the fact is, most people don't do divorce all that well, especially when children are involved. She's strengthening their conviction that they need to get away from their husbands, instead of learning to work through challenging issues. Sometimes you have to be a warrior to stay."
6. Her new friend's name:
"My new friend's name is Oprah."
7. How she addresses her new friend:
"I address my e-mails to her, 'Dear God's Girl' and I sign them: 'Love, God's Girl.'"
8. What her other new friend (Elizabeth Gilbert) thinks of her:
"I think she's the next Gloria Steinem."
9. The kinds of things her followers write during her Facebook Live videos:
"What you are doing now is helping us parent on a global level," writes one commentator. "Christ himself was extremely political," adds another. "Keep fighting the good fight, Glennon!" "I know this isn't important," writes a third viewer. "But your hair looks so pretty curly!"
10. Whether or not she feels joy:
"I actually feel so much joy."
Read the rest of the profile here.