Following the Boston Globe's Spotlight report last week on Phillips Exeter Academy's bizarre mishandling of an alleged sexual assault, over 1,000 alumni of the elite prep school signed a letter to the administration pledging to withhold support and donations until the administration "prioritize[s] the issue of sexual assault."
Phillips Exeter announced earlier this year that they fired two teachers between 2011 and 2016 who'd had sexual relationships with students decades earlier. In this most recent incident, Exeter student Chukwudi "Chudi" Ikpeazu allegedly groped classmate Michaella Henry as she said "no" repeatedly, and a campus minister asked him to bake bread for her every week as "penance"; this, obviously, proved traumatizing for Henry, who was also allegedly told by a school official that since there wasn't penetration, it wasn't sexual assault. Ikpeazu will be arraigned in August on misdemeanor sexual assault charges.
"It's ridiculous that a student follows the rules, makes a report of sexual assault to the school, and is then rebuffed and demeaned and subjected to institutional bullying," said Michael Whitfield Jones, an Exeter graduate, told the Boston Globe.
Last week, Trustees president Eunice Panetta wrote in a Facebook post to alumni that the trustees were "disturbed, saddened, and deeply concerned by recent events," and that "it is our absolute commitment that we will take whatever actions are needed and learn every lesson we can."
G/O Media may get a commission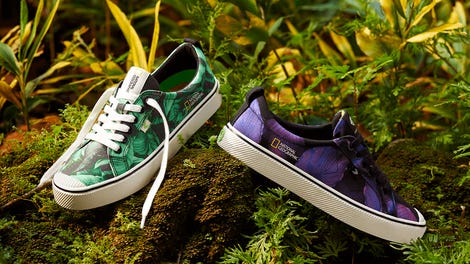 New New New
Cariuma + National Geographic
On Monday, six recent alums of Phillips Exeter—including Zoha Qamar, who wrote an essay for Jezebel a year ago about Exeter's unwillingness to engage with the concept of rape culture (which Exeter denied), noting that she and fellow residential leaders were discouraged from discussing sexual assault at a dorm meeting as it might "scare younger girls about something that probably wouldn't even happen"—sent an open letter, signed by over a thousand alums, to the Board of Trustees and Exeter principal Lisa MacFarlane.
It reads, in part:
There can be no illusions left about the Academy's breathtaking inadequacy on sexual assault. After two major revelations of past incidents at the Academy, and similar incidents at other peer schools, Exeter should have never been on higher alert, never more prepared, and never more trained to respond to the needs of a student claiming that she had experienced sexual assault with support and administrative action.

Yet instead, Exeter's most senior administrators could not have been more asleep at the wheel. According to The Boston Globe's July 13 cover story, administrators urged a student not to go to the police with a claim of sexual assault. They intimidated the student using their stature as administrators and adults in the Academy community. They said nothing when a faculty member endorsed an ad-hoc and bizarre method of punishment that serially re-traumatized that student. They did not help her in seeking psychological care despite her requests. And they clung to a definition of harassment that they had no legal authority or expertise to determine. The Globe's report is one of total systemic failure at the highest level.
There are many similar stories, the letter notes.
"There is, at this point, no debating the underlying commonality among their stories: Exeter is more focused on concealing sexual assault than on addressing it, more interested in favorable press coverage than in the health of its students, and more determined to protect the matriculation of its seniors into prestigious colleges than to send the right message about what an Exonian must be."
The letter ends with a pledge to withhold support "until the Trustees take a clear and decisive action to prioritize the issue of sexual assault," and to assist with any corrective action the administration might take.
---
Image via Associated Press.