The elite Phillips Exeter Academy is once again coming under fire for how it handles sexual assault allegations. In a particularly bizarre and unsettling incident, a male student found responsible for assaulting a classmate was sentenced to "penance," which meant baking bread for her. He delivered it for part of the year, forcing her to see him over and over again.
The Boston Globe's famous Spotlight team reports that Phillips Exeter's leadership took a uniquely unhelpful approach after 17-year-old Michaella Henry said she was groped by Chukwudi "Chudi" Ikpeazu, a track star who she said put his hands inside her shirt and groped her buttocks as she said "No" repeatedly. Henry agreed to meet with Ikpeazu and a campus minister, Rev. Robert Thompson, after the incident, which triggered panic attacks and left her feeling unsafe. Thompson came up with a response that he probably thought was very clever, in which Ikpeazu admitted responsibility and agreed to "penance":
At the minister's urging, the young man also agreed to an "act of penance": baking bread and delivering it to Michaella for the rest of the year. The Rev. Robert Thompson praised Michaella for accepting the arrangement, later writing, "You did a great service for Chudi, because you gave him an opportunity to express his regret and to take responsibility for what he had done."
Surprisingly, the Globe writes, the penance didn't do much for Henry:
Instead of improving things, the weekly bread deliveries made Michaella feel increasingly stressed, forcing her to confront her alleged abuser again and again.
All the while, Chudi went about his life as track captain, senior class leader, and dorm proctor.
G/O Media may get a commission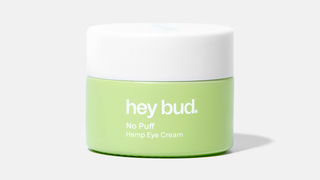 15% off
Hey Bud - No Puff Hemp Eye Cream
Henry finally went to the police; Ikpeazu will be arraigned in August on misdemeanor sexual assault charges. She says she learned from a friend that Ikpeazu had also groped her.
Phillips Exeter has a long, long, long track record of allegedly burying sexual misconduct allegations: earlier this year, they announced they had fired two teachers between 2011 and 2016 who reportedly had sexual encounters with students in the '70s and '80s. In October, former student Zoha Qamar wrote an editorial for Jezebel alleging that the school was still ignoring sexual assault on campus; (In a response, Exeter said they're not).
After that editorial went up, the Globe reports, Exeter's new principal wrote a letter to students:
In the wake of that piece and the felony sexual assault conviction of Owen Labrie, a student at St. Paul's in Concord, Exeter's new school leader, Lisa MacFarlane, wrote to parents on Sept. 4 that the school is "acutely aware" of the "important and troubling questions" the trial raised for all schools. Exeter, she promised, is committed to addressing issues of consent and sexual assault.
Henry alleges, though, that she was told by a school official that what happened to her didn't merit a report to police:
But in the October meeting with the deans, Michaella felt uneasy about whether the school could adequately protect her. Near the end of the conversation, Cosgrove tried to reassure the students: "The good news is you don't have to report this to the police because there was no penetration," he said, according to Michaella's recollection.
She also told the newspaper that after she did make a report, meeting with the Exeter Police Department and staff from the Rockland County District Attorney's Office, the school called her into a second meeting with Ikpeazu, where they determined he'd violated school policies on sexual harassment.
But two deans also made both Henry and Ikpeazu sign a no-contact order, subjecting them to suspension or expulsion if they violated it. Henry, the Globe reports, became frightened to leave her room, for fear of running into her assailant.
Correction: An earlier version of this post stated that Ikpeazu delivered bread for the entire school year; the Globe says he eventually stopped doing so before the school year concluded.
---
Photo via AP