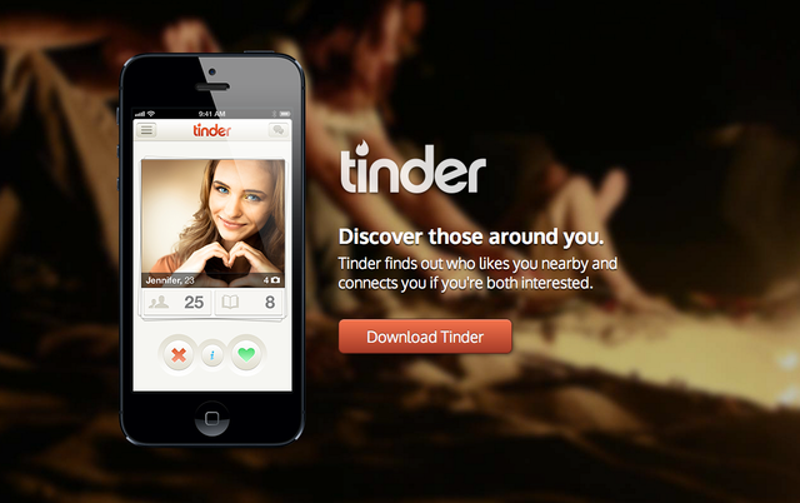 Tinder, the dating app that "finds out who likes you nearby and connects you if you're both interested" has a lot to be happy about right now. They've matched 75 million people in less than a year and 50 of those relationships have culminated in engagements. But on the tails of that good news, Tinder's CEO Sean Rad admits that the company needs "to do a better job" for its users in the gay community. Rad didn't specify who in the gay community he was speaking of, which is funny, because according to some, Tinder is doing just fine in the gay community – at least, if you're a woman.
Tinder works pretty simply. The app has you sign in using Facebook and prompts you to choose whether you're interested in male, female or male and female dating candidates. It then offers up people near you, and shows you if you have friends in common.
Unfortunately, according to Business Insider, Tinder's method is perhaps too simple for people for whom choosing a sexual partner is more complicated than male versus female. If you're interested in, let's say, someone who is trans, there's no way to get that specific. That's a problem that Tinder says they're trying to figure out how best to fix.
One user sent in her complaints about this very issue to us in an email. She got on Tinder after a suggestion by a few straight friends, who said they'd had fun experiences using it. But after a few uses, she said she felt like the app was "downright heteronormative and disrespectful" because it seemed to ignore her specific preference for just women:
"Right after downloading the app, I went into the 'Matching Preferences' and turned off the option to be matched with men and opted into the setting that allowed me to be matched with girls. Even still, when I scrolled through the profiles of people nearby that Tinder recommended - the cash cow of this innovative new take on dating - I found that they were overwhelmingly male. I kept returning to the settings, wondering if I had done something wrong on my end. A disclaimer on the bottom of the screen reads, 'Some match suggestions may not fall within your desired parameters.' I could see if the app matched me with people who were outside my ideal age range, or if it recommended I check out someone in one of the suburbs of New York City (I live in Manhattan). But neglecting to account for my desired gender?! That just felt, among other things, downright heteronormative and disrespectful.

Hoping it was just an honest mistake, I emailed Tinder's tech support...and let them know how unsettling I found this 'glitch.' They emailed back with a lackluster response that said, in essence, 'whoopsies, we'll get it fixed soon.' By this time, it's been over 24 hours, and the male recommendations are still pouring in. I wonder if other queer people have complained about this in the past. Or if they care so little about their LGBT customers that they've never even bothered to look into whether or not their services actually accommodated them. I also am worried that Tinder advertised my picture to straight men as someone they could potentially date. And for some reason, I have the nagging feeling that if a straight male were receiving pictures of gay men, they would resolve the issue a lot sooner."
This Tinder experience probably isn't rare, but it also probably isn't as nefariously motivated as our tipster thinks. It was actually totally surprising to me, given that I'd heard from a lesbian friend who I'll call Tina, that those other lesbians she knew were loving Tinder. Tina, who is 25 and lives in New York, has had such success with the app that she jokingly refers to it as a "lesbian gold mine."
Tina clarified that what Jen thought was Tinder's lack of sensitivity to their gay users (and what I thought was just a glitch) probably wasn't either. Instead, she credited it to Tinder's goal of always having someone to match you with, no matter where you are, which is what women seem to respond to about it. It has this instant quality that has made Grindr popular for casual sex but also allows for this immediate intimacy that someone is close to you, perhaps doing what you like to do, perhaps someone that knows someone you know, right now.
The way Tinder allows you to scroll through people (and reject them) takes big advantage of the fun ability to swipe on a smartphone. To get rid of someone you're not interested in, you simply swish them out of view, "as if the person has been summarily dismissed, banished with a wave of the hand," describes the Huffington Post. This method is particularly fun, explains Tina. But it also explains why Tinder might not be as specific as someone like Jen wants them to be in who they offer up as a potential mate.
"It functions initially as game," Tina added. "After you get a match it says 'Chat' or 'Keep playing', so it would make sense that it would prioritize showing you faces."
Tina went on to add that in her recent usage of the app, she felt like Tinder had "updated their algorithms and is doing a better job with only ladies." She admitted, however, that this might have to do with the fact that she's in New York City most of the time, a city that Business Insider observed is "the most passionate about Tinder."
Tinder is also considered a safe space by plenty of straight women. Well, at least some straight women. A woman named Emily who says she's 25 and from New York City has made herself mildly Internet famous for her Tumblr "How to Lose a Guy in One Tinder". On it, she documents the many messages she gets from creepsters on Tinder, the way people who submit to popular sites like Nice Guys of OkCupid do. But for other straight women, the fact that the only people who can message you are people you want to get messages from is especially appealing, given how dating sites like OkCupid let anyone contact you, upping the creep factor.