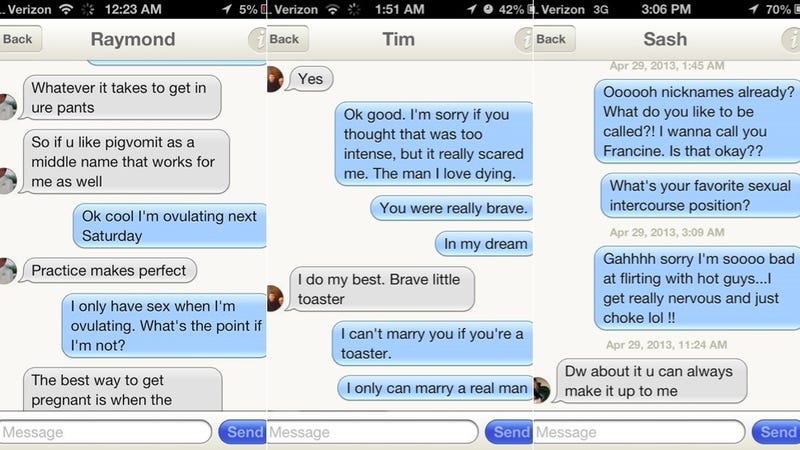 Mobile dating app Tinder links up to your Facebook and connects you based on location and mutual attraction; the developers don't advertise it as such, but the service is essentially Grindr for straight people. "How far will a guy go when he thinks he's getting laid?" asks the 23-year-old behind "How to Lose a Guy in One Tinder."
The Daily Dot interviewed Emily Miller, who trolls male Tinder users and screen-caps the texts that ensue on her Tumblr to illustrate "how much insanity guys [are] willing to put up with in pursuit of getting laid." Miller thought Tinder was "gross" because she was propositioned for sex every other message; "No shame, straight-up 'wanna bang?' first messages." So she decided to mess with her would-be beaux: "With all of these guys looking to get lucky, just how crazy could she be until she turned them off for good?"
Miller brings up an interesting point in her interview:
DD: So this is really just proving that if sex is on the table, a guy will do or say whatever?

EM: That's a piece of it, sure. But I think that women get stereotyped into being "crazy" all of the time. Men are seldom accused of being the crazy ones. To put up with what I am putting down here is crazy.
But Miller is so obviously fucking around that it seems likely these guys think it's her brand of flirting; for example, we doubt "Raymond" wants to be a father anytime soon. If you think no-strings-attached sex is "gross," this probably isn't the app for you.