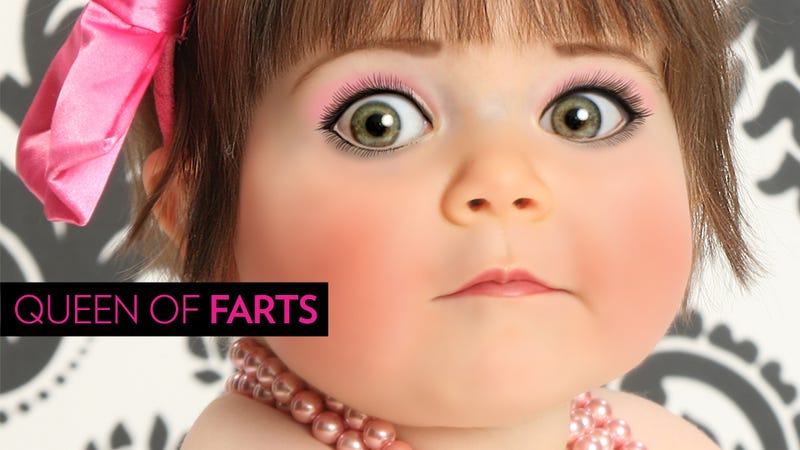 "Her!? She's ugly!" I didn't say that aloud, thankfully. But I thought it—about a baby. What a horrible thing to think about an infant, even if it's totally true. Oh, how far I'd fallen from my lofty position of being "above it all," only to land in a stackable banquet chair in the ballroom of an airport hotel in Hartford, Connecticut, deeply invested in the results of a kiddie beauty pageant, bitter, shifty-eyed, and seriously considering starting some shit with the judges.
Shut up. I'd like to see how you'd react after your 10-month-old with a gorgeous head of thick locks just lost "Best Hair" to a bald child.
It was 10 am on a Sunday morning. While God-fearing people were in church, I was worshipping at the altar of camp: the 2012 Miss & Mr. Elegance Pageant. The event lacked the refinement and luxury its name would suggest.
You couldn't look in any direction without seeing something trashy that had been made exponentially so, either by default or design. Errant toddler-sized French manicure press-on nails littered the carpet. An 11-year-old girl wearing lucite-like heels was on stage, the backdrop of which was an airbrushed rendering of a grand marble staircase a la Musik Express. A dog — a pit bull mix, maybe — lounged on top of the pageant organizers' table, where cash transactions were taking place. Jessie J's "Domino" blared through the sound system as a four-year-old, who was heavily made-up — complete with expertly contoured cheekbones — sang the song's opening verse with a great deal of conviction: "I'm feeling sexy and free…"
And I loved it. My sensibilities afford me an appreciation for this kind of vulgarity. According to Susan Sontag, the "essence of camp" is the "love of the unnatural: of artifice and exaggeration." You can't get much more unnatural than a pit bull masquerading as a lap dog, little girls impersonating drag queens impersonating women, and all of it being billed as "elegance." How could you not laugh at this? It was all such a joke!
During the crowning ceremony, though, it stopped being so funny. I sincerely wanted my daughter to win. That title actually mattered. I had transformed from "pageant mom" into an actual pageant mom. How had this happened to me?
***
Like most of the world, I was introduced to child beauty pageants after the late '90s murder of JonBenét Ramsey became a fixture of the tabloids in the supermarket checkout line. The images of the 6-year-old little girl made up to look like a woman were jarring; JonBenét's participation in pageants essentially convicted her parents of her murder in the court of public opinion. They were sickos who sexualized their little girl. And if the Ramseys didn't actually kill their daughter themselves, then they certainly invited the attention of the pedophile who did by putting her on display. That's what everyone said at the time, anyway.
In the midst of the hysteria that surrounded the Ramsey case, filmmaker Shari Cookson set out to learn more about child beauty pageants. The result was the 2001 HBO documentary Living Dolls: The Making of a Child Beauty Queen. It instantly became one of my favorite movies.
Living Dolls revealed that the child beauty pageant circuit is actually a subculture supporting a booming cottage industry—seamstresses, designers, makeup artists, hair stylists, false teeth molders, wig makers, photographers, pageant coaches, etc.—populated with homosexual men who were embraced by otherwise conservative, Southern families. In some ways, for me the sheer magnitude of the kiddie pageant circuit was more bizarre and shocking than seeing a three-year-old with a spray tan wearing false eyelashes.
Savvy reality TV producers picked up on the phenomenon and created a sort of pageant sub-genre with Little Miss Perfect, Toddlers & Tiaras, King of the Crown, and Here Comes Honey Boo Boo. Parents hungry for the vicarious thrill of the spotlight are constantly upping the ante, dressing their daughters for competition in Madonna-style cone bras, sexy cop outfits, and, literally, as hookers. The shows were and are huge hits, and now pageants more popular than ever.