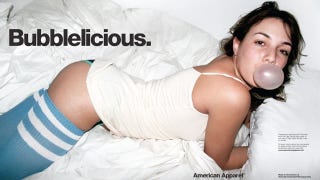 If you want to model for American Apparel, you'll need to sign a contract first. It covers all the usual things, like image rights — but then there are the weird parts. Like the provision where you agree to enter into secret, binding arbitration if you have any dispute with the company for any reason. And like the provision where you promise not to "disparage" the company "either in public or online on blogs or on any similar media," and "not to speak with reporters or anyone from the media."
Jim Edwards at bNet obtained a copy of American Apparel's standard modeling contract. I modeled professionally for years, and I have never seen a contract that looked like this. (Also, for American Apparel to pay girls $50/hr, capped at $300/session, for exclusive, unlimited, international rights to the resulting photographs is highway robbery. Those ads the company gets for fifty bucks, once placed on billboards and bus shelters and the back pages of magazines, will be worth millions of dollars in sales to American Apparel.)
The language of American Apparel's contract seems to presuppose that the model will, eventually, feel like suing the company. (Probably a wise assumption, given company founder Dov Charney's history, but still a highly unusual one.) Given this assumption, the bulk of the contract concerns what will happen in the course of such disputes. Naturally, American Apparel's contract gives full advantage to American Apparel, not to the model: Any disputes have to be settled via binding arbitration, a process that takes place in secret, offers extremely limited (or no) ability to appeal, and which has been shown to heavily favor companies over the people who bring the disputes. By signing this contract, American Apparel aims to ensure all of its models waive their normal rights to seek redress in court, in front of a judge and a jury, for wrongs done them.