A 20-year-old woman — who was just 17 when she started working at American Apparel's Chelsea store — is suing CEO Dov Charney for $260 million, alleging that he forced her to have sex with him over a period of eight months.
According to the New York Daily News, Irene Morales says the assaults started in 2008, when Charney invited her his apartment and forced her to perform oral sex on him, "nearly suffocating her in the process." Says the suit, "She was then, to all intents and purposes, held prisoner in the apartment for several hours and forced to perform additional sexual acts." The assaults continued for months, with Charney promising Morales "job advancement" — eventually, she resigned.
In addition to her lawsuit, which the Daily News calls "by far the most damning" yet against the much-sued Charney, Morales is also considering pressing criminal charges. In an official response, American Apparel said Morales had previously signed "an agreement to submit any future claims to confidential binding arbitration" — basically, a contract never to publicly sue them. They say this was to "to protect the privacy interests of employees and former employees, and to prevent predatory plaintiffs and their attorneys from attempting to use the media to extort the company" — but it also seems like the kind of thing that might come in handy if your CEO just happens to get sued for sexual harassment all the time. The statement continues,
The company intends to file a formal complaint with the NY state bar seeking disciplinary action against [the employee's] lawyers who we believe are engaged in an illegal conspiracy to extort money from American Apparel. We are very confident that [her] claims will be promptly referred by the court to confidential binding arbitration where her claims and the company's counter-claims will be resolved, we believe fully in favor of the company.
See, Charney's the real victim here, much as he's always claimed. We'll see if the judge buys it.
G/O Media may get a commission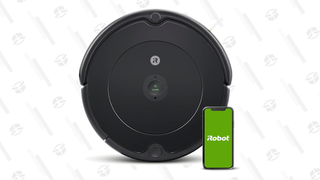 35% Off Black Friday Deal
iRobot Roomba 694 Robot Vacuum
American Apparel Founder Dov Charney Accused Of Forcing Teen Employee Into Sex Act In $260M Suit [NY Daily News]
Dov Charney Sued By Former Employee For $260M Over Alleged Forced Sex [Huffington Post]
American Apparel Responds To $250 Million Sexual Assault Suit [Racked]