Oh, rich people. They're always made to believe that ANYTHING is possible in the beautiful universe we live in, that every dream is within reach, that people will actually care when they pick up a banjo and launch a Kickstarter. Zosia Mamet — aka Shoshanna from Girls — is one of those rich people. Zosia and her sister Clara were all like, Let's spend time some time together! Let's do covers of folk songs and dress up like Janis Joplin if Janis Joplin was in this spring's Free People catalogue!
This is all well and good, but Zosia and Clara Mamet think their shitty folk song is so good it deserves a music video. Though both are gainfully employed, children of a well-known and well-paid film director, and friends with other similarly privileged individuals, they really need your help. In order "to realize through the visual artistry of some very talented people the universal feeling of un-requited love," they're begging you to help them out and raise $32,000 for their first music video. The video will be for "Bleak Love," a song that, from the brief snippets I heard on their Kickstarter, I could have probably come up with while taking a leisurely poop. (It is a song about when the Mamet sisters had their hearts broken.)
This is what they want the music video to look like:
"Visually the video will bounce from opulence to sparseness, French Baroque to simple, timeless and heartbroken. We are hoping to capture something everyone has felt at some point in their lives."
Bouncing from French Baroque to simple happens to me on a daily basis; I'm always like surrounded by opulence at one point and suddenly in a very sparse room. Probably because the only time I get to have a taste of French Baroque opulence is when I break into the presidential suite at the St. Regis and have to immediately bounce into very sparse stairwell to flee security. Totally relatable.
Here's what a very rustic Zosia sitting on a pile of logs had to say:
"We love making music. So much. We would love to share that joy with you."
Sadly, only 23 people have donated so far, even though if you donate $2,000, the Mamet sisters will Skype with you! (Seriously, they think that's how much a Skype session with them is worth.)
G/O Media may get a commission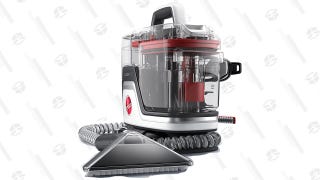 Save $10
Hoover CleanSlate Plus Carpet & Upholstery Cleaner
The best part about all of this? The whole thing sounds like an episode of Delusional Downtown Divas, Lena Dunham's online series of hilarious shorts that follows "three young women hungry for art-world stardom but comically unaware of how to reach their goal of stylish domination." Sounds about right.