Zoe Saldana has moved passed the point of placating naysayers who criticized her appearance in Nina Simone's biopic, a film that was not met favorably by critics. Now she wants to hit pause and remind us that she is black, and no one can tell her she's not, no matter how long their think piece is.
In an interview with Allure Magazine she addresses her critics:
"There's no one way to be black," she said. "I'm black the way I know how to be. You have no idea who I am. I am black. I'm raising black men. Don't you ever think you can look at me and address me with such disdain."
Also people's complaints about the prosthetics she wore to portray Nina Simone:
"I never saw her as unattractive. Nina looks like half my family!" she says. "But if you think the [prosthetic] nose I wore was unattractive, then maybe you need to ask yourself, 'What do you consider beautiful? Do you consider a thinner nose beautiful, so the wider you get, the more insulted you become?'"
G/O Media may get a commission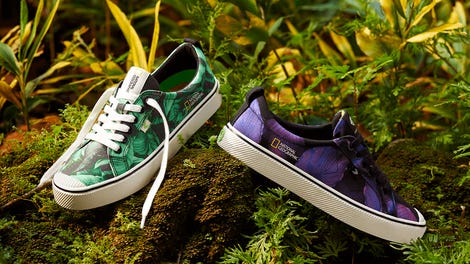 New New New
Cariuma + National Geographic
Saldana says she took the part because she wanted to get Simone's story out there, rather than wait and hope the "right" black woman would be found for the script:
"The script probably would still be lying around, going from office to office, agency to agency, and nobody would have done it. Female stories aren't relevant enough, especially a black female story," she says. "I made a choice. Do I continue passing on the script and hope that the 'right' black person will do it, or do I say, 'You know what? Whatever consequences this may bring about, my casting is nothing in comparison to the fact that this story must be told.'

"The fact that we're talking about her, that Nina Simone is trending? We [f–king] won," Saldana stated. "For so many years, nobody knew who the [f–k] she was. She is essential to our American history. As a woman first, and only then as everything else."
Let the next round of think pieces begin! [The Root]
---
TMZ's headline about Taylor Swift that reads "Joe Jonas Taught Me How To Dump" is sadly not about pooping. It just means she broke up with Calvin Harris over the phone, probably with her head nestled against Tom Hiddleston on a wave-beaten rock:
Sources familiar with the situation tell TMZ, Swift called Calvin from Nashville at some point after his car crash to pull the plug on their relationship. We're told Swift was vague during the call, only saying she needed some space.

Calvin was thunderstruck because he was under what he thought was a clear impression that Taylor was in it for the long haul to help him recover. He didn't accept the news well ... we're told they haven't spoken since.

And get this ... Taylor put Joe Jonas on blast on Ellen's show back in 2008 ... when she called him out for an over-the-phone breakup.
OH, he taught her how to duuuummmmmmmmmp.
[TMZ]

---
Justin Bieber go boom boom:
---
Image via Getty.