If you guessed that Nylon would break its all-white cover girl streak (as was heavily hinted to us would occur in April) with Zoe Saldana, you get a prize: a Saldana cover and frank talk about Hollywood racism!
As we noted (per Solange Knowles on Twitter!) a few weeks ago, the last black woman on the cover of Nylon was Lil' Kim in 2003. The cover with Saldana, who is Dominican, was already in the works by then.
Was it the obscurity of acting behind motion capture animation in Avatar? The movie's wooden script? Garden-variety racism? For whatever reason, despite starring in last year's biggest movie, Saldana's rise these past months has been rather medium-paced. She didn't make the cover of the Vanity Fair Young Hollywood issue, and she is on but one-third of Glamour's April "Glam New Guard" issues (along with Amanda Seyfried and Leighton Meester). But she has Nylon to herself, and with it the opportunity to talk about the way the Hollywood treats a darker-skinned woman:
"When they say 'We want to go white,' they have a very smooth way of saying it, and the recent one is the word traditional. [I've heard] 'Oh, you know, you're just not what we were looking for, your skin is a little darker.' Compared to what?! My skin is just my skin. It's dark if you compare it to someone who's lighter."
G/O Media may get a commission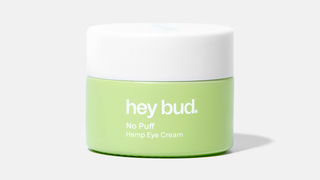 15% off
Hey Bud - No Puff Hemp Eye Cream
Say whatever you like about James Cameron, but he had the vision to look at Saldana and see blue:
"I'm thinking he probably imagined some Amazonian girl [for Neytiri] -– I had really long hair at the time –- wearing really little shit with like, a bow and arrow. I had no idea she was blue and nine feet tall. But for some reason, he was like, 'You look so much like her!'"
These days, she tells Nylon's Luke Crisell, she might have a fighting chance:
"Whatever role Angela Bassett or Kate Winslet can get, I can certainly at least get through that door."
Not to split hairs, but Angela Bassett and Kate Winslet do not exactly have identical careers these days. But maybe that too is part of the problem.
Zoe Saldana, Center Stage [Nylon]